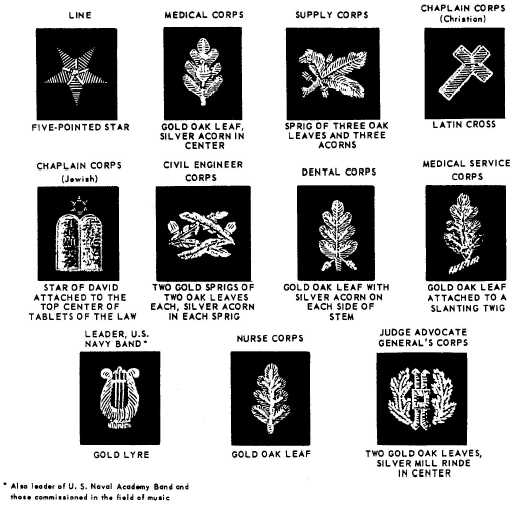 only   a   medical   activity,   such   as   a   hospital   or
dispensary. Staff corps officers should not be confused
with staff officers. Staff officers may be either line or
staff  corps  officers  assigned  to  the  staffs  of  high-
ranking officers.
UNIFORMS AND CORPS DEVICES
Naval    officers    wear    various    uniforms    for
different  occasions,  similar  to  various  civilian  dress
requirements. Figures 9-2 and 9-3  show  some  of  the
uniforms   worn   by   Navy   men   and   women.   Naval
aviators  and  chief  petty  officers  (CPOs)  serving  as
pilots  or  naval  flight  officers  or  in  aviation  support
billets   wear   the   aviation   working   green   uniform
(forest  green).  Other  officers  and  chief  petty  officers
attached to aviation commands may also wear it.

U.S.
Navy     Uniform     Regulations     gives     

full     details
regarding uniforms and insignia.
Area  coordinators  prescribe  the  uniform  of  the
day to be worn in their respective geographical areas.
The  senior  officer  present  afloat  (SOPA)  prescribes
the   uniform   of   the   day   for   shipboard   commands
outside    the    geographical    limits    of    the    area
coordinator.    The    senior    officer    present    (SOP)
prescribes the uniform of the day for shore stations.
Officers   wear   certain   devices   with   different
uniforms to signify their grade. They wear gold sleeve
stripes  on  blue  coats;  black  sleeve  stripes  on  forest
green  coats;  and  shoulder  marks   on   white   coats,
white tropical shirts, and blue over-coats. They wear
metal  grade  insignia  on  the  shoulder  straps  of  the
blue  raincoat  and  overcoat  and  on  collars  of  khaki
and blue flannel shirts.
Above the stripes (inboard of them on shoulder
boards), line officers wear a five-pointed gold star;
staff   corps   officers   wear   the   appropriate   corps
device,
as
shown
in
figure
9-4.
Women
Figure 9-4.—Commissioned officers' line and staff corps devices.
9-5