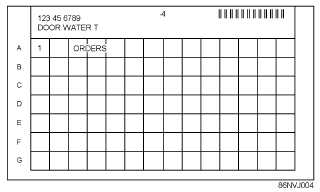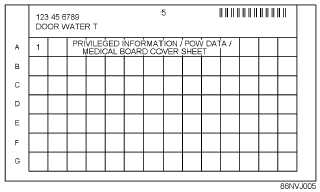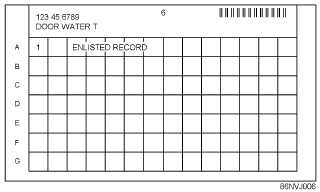 FICHE NO. 4—ORDERS
FICHE NO. 5—PRIVILEGED INFORMA-
TION
1.   Adverse information
2.   Statements of the officer in reply to adverse
information
3.   Extracts   from   the   findings   and   recom-
mendations     of     courts     and     boards
concerning the officer
FICHE NO. 6—ENLISTED RECORD
1.   Prepared only for officers who have served
as  enlisted  members  for  2  years  or  more.
Enlisted   documents   for   officers   who
completed   less   than   2   years   of   enlisted
service  are  distributed  in  the  appropriate
subject matter field on fiche 1 through 5.
2.   A fiche number 6 is not prepared during the
conversion  process  for  temporary  officers
who held concurrent enlisted status.
The  official  officer  microfiche  record,  which  is
presented   to   selection   boards,   consists   of   fiche
numbers 1, 2, and 5 for active-duty officers and fiche
numbers  1,  2,  4,  and  5  for  officers  in  the  inactive
Reserve and Training and Administration of Reserves
(TAR) Program.
MATERIAL IN YOUR RECORD
Any  matter,  such  as  that  described  in  fiche  1
through  6,  that  is  rightfully  placed  in  the  official
record  of  an  officer  may  not  be  removed  except  by
special  authorization  of  the  Secretary  of  the  Navy.
Each day of your service career you are building up
material   for   your   record,   which,   when   properly
entered, is there to stay.
Once   submitted   to   the   BUPERS,   an   official
document   becomes   the   property   of   the   Navy
Department and is not subject to change or removal,
except by authorization of the Secretary of the Navy.
A  document,  for  example,  a  fitness  report,  may  be
amended   or   supplemented   by   correspondence
forwarded  via  official  channels.    In  such  cases  the
forwarding correspondence will be made a part of the
document   being   amended   or   supplemented.
An
exception to the above concerns information relating
to an officer's desire to resign.   If that officer should
change   plans   and   decide   not   to   resign,   any
correspondence  relating  to  the  resignation  will  be
removed from the record at the officer's request.
The   Chief   of   Naval   Personnel   reviews   your
record    when    any    change    in    your    status    is
4-2
Fiche 4
Fiche 5
Fiche 6