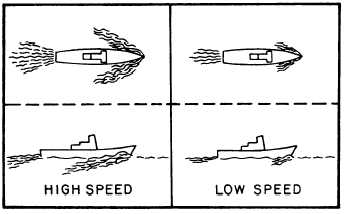 you, steaming a few knots faster than you are, it is safe
to estimate that the other ship's speed is about 12 to
15  knots.
A readily visible aid in estimating speed is a ship's
bow wave and stern wake. A bow wave is the wave
of water the bow of a ship makes as it travels through
the  water.  As  a  ship  travels  faster,  the  bow  wave
becomes   larger   (figure   13).   A   stern   wake   is   the
phosphorus trail that a ship leaves as it travels through
the water. Unlike the bow wave, it is a calm, white-
colored water. As a ship travels fast, the stern wake
increases in length; when the ship slows down, the stern
wake  decreases.
The bridge and CIC do not expect accurate, to-the-
exact-knot speed reports from you. However, a good
estimate  is  always  valuable  and  can  be  used  as  a
Figure 13.—Bow wave and stern wake.
27