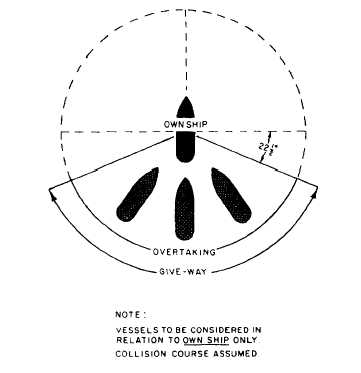 Overtaking  Situation
Any vessel overtaking another must keep clear of
the overtaken vessel. An overtaking vessel is one that is
approaching another vessel from any direction more
than 22.5° abaft its beam (fig. 5-16). When in doubt,
assume  you  are  overtaking  and  act  accordingly.
GENERAL   DEFINITIONS
Before we continue with our discussion of basic
rules of the road, you must first understand the terms we
will use. They are as follows:
Vessel  

includes  every  description  of  watercraft,
including  nondisplacement  craft  and  seaplanes  used,  or
capable of being used, as a means of transportation on
water.
Power-driven  vessel  

means  any  vessel  propelled  by
machinery.
Sailing vessel

means any vessel under sail, provided
that propelling machinery, if fitted, is not being used.
Give-way vessel

refers to a power-driven vessel
underway having another vessel to starboard, thus
"giving-way" or allowing the other vessel to pass in an
overtaking  situation.
Figure  5-16.–Overtaking  situation.
Stand-on vessel

refers to any power-driven vessel
in a crossing situation close enough to involve risk of
collision;  the  vessel  having  the  other  to  starboard  must
keep out of the way, or "stand-on," not crossing ahead
of the other vessel.
Vessel engaged in fishing

means any vessel fishing
with nets, lines, trawls, or other fishing apparatus that
restricts  maneuverability,  but  does  not  include  a  vessel
fishing with trolling lines or other fishing apparatus that
does  not  restrict  maneuverability.
Seaplane   

includes   any   aircraft   designed   to
maneuver on the water.
Vessel not under command

means a vessel that,
through  some  exceptional  circumstance,  is  unable  to
maneuver as required by these rules and is, therefore,
unable to keep out of the way of another vessel.
Vessel restricted in its ability to maneuver

means a
vessel that, from the nature of its work, is restricted in
its ability to maneuver as required by these rules and is,
therefore, unable to keep out of the way of another
vessel.
Vessel constrained by its draft  

means a power-
driven vessel that, because of its draft in relation to the
available depth of water, is severely restricted in its
ability to deviate from the course it is following
(International  Rules  only).
Underway  

means that a vessel is not at anchor, made
fast to the shore, or aground.
Length  

and  

breadth  

of a vessel mean its length
overall,  and  greatest  beam  or  width.
In sight

means vessels are deemed to be in sight of
one another only when one can be seen from the other.
Restricted visibility
means any condition in which
visibility is restricted by fog, mist, falling snow, heavy
rainstorms,  sandstorms,  or  any  other  similar  causes.
Inland waters

means the navigable waters of the
United   States   shoreward   of   the   navigational
demarcation lines dividing the high seas from harbors,
rivers, and other such bodies of waters of the United
States, and the waters of the Great Lakes of the United
States'  side  of  the  international  boundary.
Demarcation lines

means the lines delineating those
waters upon which mariners must comply with the 72
COLREGS and those waters upon which mariners must
comply  with  the  Inland  Navigation  Rules.  (The
boundaries for the demarcation lines are listed in the
back  of  the  Coast  Guard  publication  

Navigation  Rules,
International-Inland.)
5-20