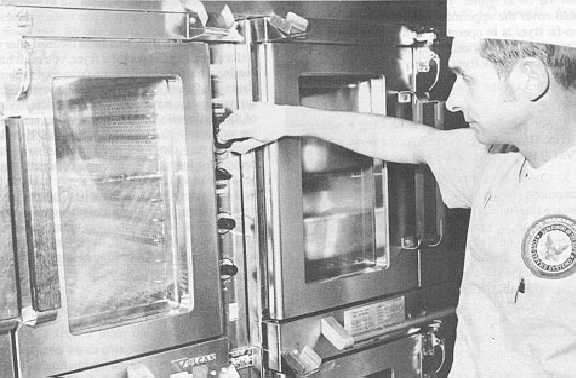 Operating Instructions
The oven should be preheated before it is used
by  turning  both  upper  and  lower  units  to  

high
until  the  desired  temperature  is  reached.  Then,
the  thermostat  control  will  automatically  cut  off
the current  and  will  supply  only  enough  heat  to
keep  the  temperature  constant.  After  the  oven
has  been  heated,  set  the  two  three-heat  oven
switches at the

top

and

bottom

to the heat setting
necessary to bake the product. In roasting  meat,
avoid  spilling  grease  on  the  heating  elements  or
thermostat,  as  damage  to  this  equipment  may
result.
Care and Cleaning
Turn off heat. Scrape interior. Sprinkle salt on
hardened spillage on oven floor. Turn thermostat
to     500°F.     When     spillage     has     carbonized
completely,    turn    off    oven    and    let    it    cool
thoroughly. Scrape the floor with a long-handled
metal   scraper.   Use   a   metal   sponge   or   hand
scraper on inside of doors, including handles and
edges. Brush out scraped carbon and loose foods.
Begin  with  the  top  deck  if  stacked.  Brush  out
with  a  stiff-bristled  brush  and  use  a  dustpan  to
collect. Wash doors with hot detergent solution on
enameled   surfaces   only,   rinse,   and   wipe   dry.
Brush combustion chamber using a small broom,
and  brush  to  clean  everyday.  Wash  top,  back,
hinges,   and   feet   with   warm   hand-detergent
solution,  rinse,  and  wipe  dry.  Clean  and  polish
stainless steel exterior.
CONVECTION OVEN
A  convection  oven  (fig.  4-4)  has  a  blower  fan
that   circulates   hot   air   throughout   the   oven,
eliminating   cold    spots    and    promoting    rapid
cooking.     Overall,     cooking     temperatures     in
convection  ovens  are  lower  and  cooking  time  is
shorter   than   in   conventional   ovens.   The   size,
thickness,  type  of  food,  and  the  amount  loaded
into   the   oven   at   one   time   will   influence   the
cooking time.
General Operation of Convection Ovens
The      general      operating      procedures      for
convection ovens are as follows:
48.131
Figure 4-4.-Convection oven.
4-6