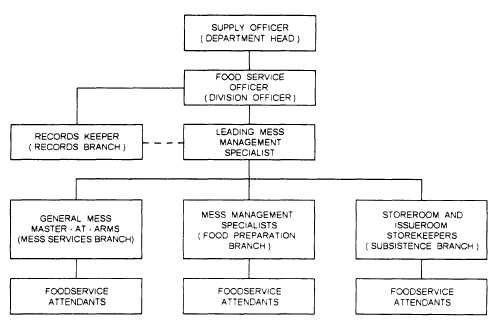 chart  for  a  foodservice  division  of  a  small  fleet  unit  is
illustrated  in  figure  13-1.
Records
As described in detail in chapters 2,3, and 12, GM
records  are  used  to  accomplish  the  following  basic
processes:
l
l
l
l
l
l
Determining  provision  requirements
Preparing  requisitions
Processing receipt and expenditure documents
Conducting  inventories
Maintaining related files and records to account
for  food  items
Preparing  related  correspondence,  reports,  and
returns  (financial  statements)
The  Food  Service  Management  (FSM)  system
automates  many  of  the  routine  manual  foodservice
records-keeping  functions.  The  system  uses  the  same
terminology, forms, and procedures as found in the
manual system. Since the system has been designed with
current regulations in mind, the software can be easily
used by an individual familiar with manual foodservice
records.  The  NAVSUP  P-486,  volume  I,  provides  a
mandatory checklist and a Navy Food Service Systems
Office (NAVFSSO) recommended system access list,
which  automated  activities  are  encouraged  to  use.
Further information is available from the Terminal
Users' Guide, which is distributed with the software.
This  chapter  discusses  the  use  of  foodservice
records  as  management  tools  that  enable  you  to  more
efficiently operate the mess. As the assistant to the FSO
in the GM, you should not have custody or control over
original financial records applicable to operating the
GM. However, you should have access to these records
and  may  have  duplicates,  as  needed,  for  the  effective
administration  and  operation  of  the  GM.
Throughout this chapter the various processes of
foodservice  management  are  discussed.  Additionally,
examples  of  how  GM  records  are  used  to  assist  in
managing all areas of the GM are provided.
Food Preparation
The FSO is directly responsible for making sure
foodservice   personnel   follow   all   section   orders
concerning  the  proper  preparation  of  food.  As  the
leading MS, you should make sure the FSO's orders and
regulations  are  followed  by  all  foodservice  personnel.
In addition to the service of food, these orders and
regulations  encompass  such  specifics  as  food
conservation, sanitation, scullery operation, and the
handling of food wastes. Managing these processes
requires setting up a strict routine for preparing and
serving  food.  This  routine  should  include  some  of  the
following  actions:
Figure 13-1.-Typical organization of a foodservice division of a small fleet unit.
13-2