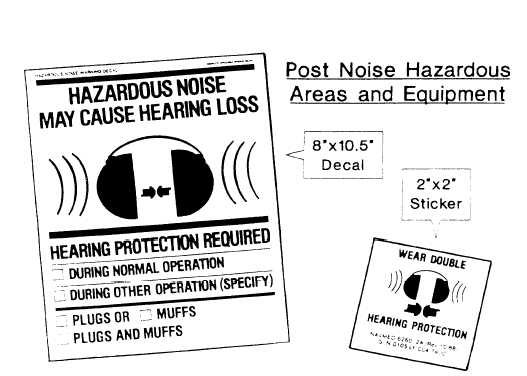 Figure 5-3.—Hazardous  noise  labels.
The person qualified to take the noise measurements
uses  a  sound  level  meter  to  identify  all  potentially
hazardous noise areas. The work areas where the sound
level, continuous or intermittent, is routinely greater
than 84 dB(A) or where the peak sound pressure level,
caused by impulse or impact noise, routinely exceeds
140 dB are considered hazardous noise areas. These
areas and equipment are then labeled to warn of the
noise hazard.
Hearing  Tests/Audiograms
Hearing  tests,  or  audiograms,  are  required
monitor the hearing of workers routinely exposed
hazardous  noise.  Periodic  monitoring  will  allow  us
catch  a  hearing  loss  before  it  becomes  severe  or
to
to
to
to
correct  potential  problems  with  hearing-protective
devices. Audiograms test a person's hearing at a variety
of frequencies in the human speech range. Audiograms
can be conducted at most Navy clinics, aboard tenders,
and aboard air capable surface ships.
Personnel working in hazardous noise areas must be
entered  in  the  Hearing  Conservation  Program.  Military
personnel should have received a reference hearing test
upon entry into naval service. Civilian personnel being
considered  for  employment  in  an  occupational  specialty
or area that involves routine exposure to hazardous noise
should receive a reference audiogram. Navy employees
presently  in  service  who  do  not  have  a  reference
audiogram  filed  in  their  health  record  will  not  be
assigned  to  duty  in  designated  hazardous  noise  areas
until they receive a reference hearing test. All personnel
should receive a hearing test periodically and before
ending their naval service or civilian service.
Labelling  of  Hazardous  Noise
Areas  and  Equipment
Make  sure  you  label  designated  noise-hazardous
areas with the approved 8-inch by 10.5-inch decal (fig.
5-3).  Normally,  you  should  apply  the  proper  decals  to
the outside of all doors or hatches leading into the
noise-hazardous area. That ensures personnel know
what protection they must wear in that area. Label
equipment,  such  as  hand  tools,  with  the  approved
2-   by   2-inch   hazardous   noise   sticker,   NAVMED
6260/2A  (fig.  5-3).  This  sticker  ensures  personnel  know
whether to wear single or double protection when using
that  equipment.
Personal Hearing-Protective Devices
When  a  hazardous  noise  area  or  operation  is
identified, we try to control or eliminate that noise
hazard  using  engineering  controls.  These  controls
include the use of acoustic material, the isolation of
noisy equipment, or the substitution of a less noisy
process.  If  we  cannot  reduce  the  noise  to  a  safe  level,
then our only choice is the use of personal protective
5-8