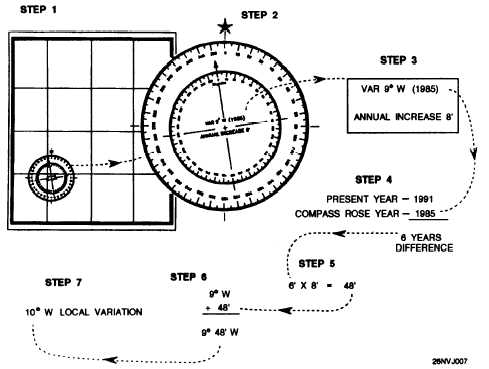 How  to  Determine  Local  Variation
Background
While  standing  the  QMOW,  you  will  routinely  be  tasked  with
determining  variation.  This  is  a  simple  procedure  using  simple
mathematics  and  the  chart's  compass  rose.  Use  the  following  steps  to
find  your  local  variation.
Step
Action
1.
Locate the compass rose nearest to the area in which the ship is operating.
2.
Locate the variation and annual increase/decrease from the center.
3.
Locate the year from the center of the compass rose.
4.
Subtract the year indicated from the current year.
5.
Multiply the number of years times the annual change.
6.
Add the sum (or subtract if decreasing) from step No. 5 to the variation in the
center of the compass rose.
7.
Round the total off to the closest ½°.
Figure  2-5.  Steps  followed  to  determine  variation.
2-5