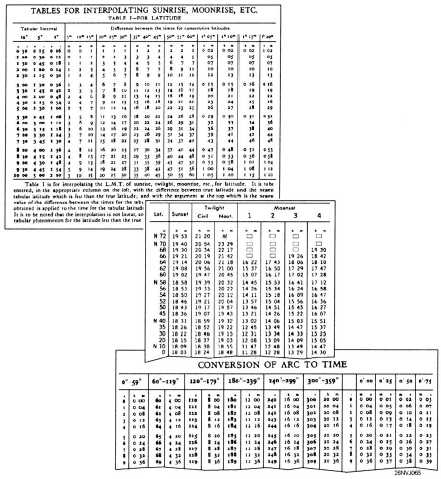 How to Determine the Time of Sunrise, Sunset, Moonrise,
Moonset, and Twilight
Strip Forms and
OPNAV  Navigation  Strip  Forms  have  evolved  from  a  need  to  have  a
the Navigation
standard  method  of  working  celestial  problems.  The  strip  forms  are
Workbook
located  in  the  back  of  the  Navigation  Workbook  (OPNAV  3530/l)  and
they  are  designed  to  work  with  the  individual  pages  of  the  Navigation
Workbook.  Every  time  a  celestial  observation  is  taken  that  fixes  the  ship's
position, you must keep a record of the results in the Navigation
Workbook.
How to
Determine  the
We will learn how to determine the time of sunrise by using a practical
example.  Use  the  table  on  the  next  page  and  figure  6-4  to  work  the  strip
Time  of  Sunrise
form.
Figure  6-4.  Excerpt  from  

The  Nautical  Almanac.
6-7