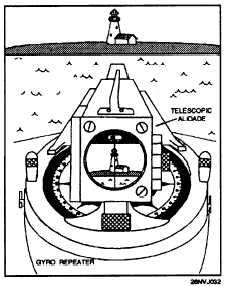 How  to  Use  the  Telescopic  Alidade
View  Through
the Alidade
The  optical  system  simultaneously  projects  the  image  of  the  compass
card,  together  with  a  view  of  the  spirit  level,  onto  the  optical  view  of  the
telescope.  By  this  means,  both  the  object  and  its  bearing  can  be  viewed
at  the  same  time  through  the  alidade  eyepiece.
Figure  2-20  illustrates  taking  a  visual  bearing  with  a  telescopic  alidade.
In  this  example,  the  bearing  to  the  lighthouse  is  022°.
Follow  these  steps  to  properly  take  a  bearing  with  a  telescopic  alidade.
Step
1.
Action
Place the ring on top of the gyro repeater and twist locks into
2.
Point the front lens of the alidade towards the object to be
sighted.
Tip: Sight along the handle to quickly find an object.
3.
Look into the eyepiece and rotate the alidade right or left until
the object is aligned with the crosshair.
4.
Keep the alidade level by observing the spirit level in the top
part of the view.
5.
With the object lined up and level, read the bearing from the
reflected compass card. Read the inside compass card for true
bearings.
Figure  2-20.  View  through  an  alidade.
2-31