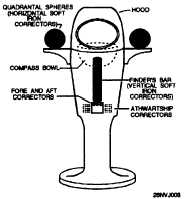 Magnetic  Compass  Operation  and  Components
Operation
The operation of a magnetic compass is very simple and can be stated as
follows:  

"A  small  bar  magnet  freely  suspended  in  the  magnetic  field  of
Earth  will  always  align  itself  parallel  to  the  lines  of  force  of  that  field  and
thus  will  establish  a  direction."
Components
Use  the  following  table,  figure  2-6,  and  figure  2-7  to  learn  the  parts  of  a
magnetic  compass.
Part
Card
Bowl
Magnets
Gimbals
Binnacle
Function
The  card  is  an  aluminum  disk  graduated  in  degrees
from  0  to  359.  It  has  a  jeweled  bearing  that  rides  on  a
hard,  sharp  pivot  point.
The  card  is  supported  by  the  bowl.  A  lubbers  line  is
marked  on  the  bowl  and  is  used  as  visible  index.  The
bowl  is  filled  with  Varsol  to  dampen  overswings  by  the
card.  An  expansion  bellows  in  the  lower  bowl  serves
to  allow  expansion  of  the  liquid  with  temperature
changes.
Several  bar  magnets  are  used  to  correct  and  align  the
compass.
The  bowl  has  two  pivots  that  rest  in  a  metal  ring,
which  also  has  two  pivots  resting  in  the  binnacle.  This
arrangement  (gimbals)  permits  the  compass  to  remain
level despite the motion of the ship.
The binnacle serves
as a housing for the
compass.   It   is
made of a non-
magnetic  material.
It also serves as a
housing  for  the
compasses
correctors:
magnets,  flinders
bar,  and  quadrantal
spheres.   A   lighting
system is normally
Figure 2-6. Compass binnacle
installed.
2-7