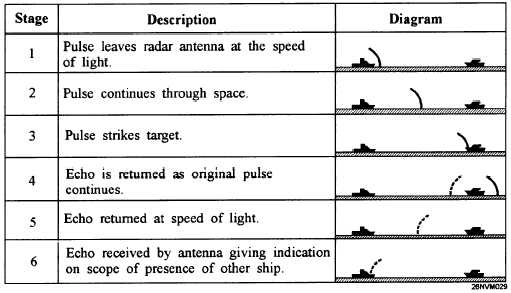 Navigational Radar
Components  of
A  typical  surface  radar  set  is  made  up  of  five  components.
RADAR
Component
Description of Function
Transmitter
Sends  out  electromagnetic  waves  of  energy.
Modulator
Allows  waves  to  be  omitted  as  pulses.
Beams  the  energy  at  the  targets  and  rotates  to  scan
Antenna
the surrounding area.
Receiver
Converts  the  reflected  radio  energy  returned  from  the
target into usable data.
Indicator
Presents  the  data  received  visually  on  a  scope.
How  RADAR
Works
The  following  stages  help  to  explain  how  radar  operates:
Plan Position
The  PPI  scope  provides  a  bird's-eye  view  of  the  area  covered  by  the
Indicator (PPI)
radar  with  your  ship  in  the  center.  The  sweep  appears  as  a  bright  line
and  originates  in  the  center  of  the  scope  and  extends  to  the  outside  edge.
This  straight  line  sweep  is  synchronized  with  the  radar  antenna  and
rotates  360°.  Each  time  a  target  is  detected,  it  appears  as  an  intensified
spot  on  the  scope.  See  figure  8-31.
8-47