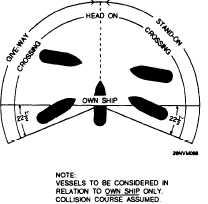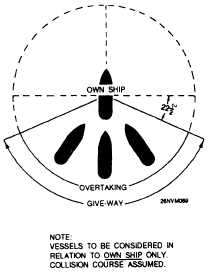 Steering and Sailing Rules,

Continued
Crossing
When  two  power-driven  vessels  are  crossing  and  involve  risk  of  collision
(fig.  4-19),  the  vessel  having  the  other  to  starboard  must  keep  out  of  the
way  and  will  avoid  usually  by  turning  to  starboard  and  passing  astern  of
the  other
ahead of the other vessel

.
vessel  or,  if  circumstances  permit,  speeding  up  and  crossing
Figure  4-19.  Two  ships  in  a  crossing  situation.
A  sailing  vessel  has  the  right-of-way  over  power-driven  vessels  except
when  the  sailing  vessel  is  overtaking,  or  when  the  power-driven  vessel  is
engaged  in  fishing,  is  not  under  command,  or  is  restricted  in  its  ability  to
maneuver.
Overtaking
Any  vessel  overtaking  another  must  keep  clear  of  the  overtaken  vessel.
An  overtaking  vessel  is  one  that  is  approaching  another  vessel  from  any
direction  more  than  22.5  degrees  abaft  its  beam  (fig.  4-20).  When  in
doubt,  assume  you  are  overtaking  and  act  accordingly.
Figure  4-20.  Two  ships  in  all  overtaking  situation.
4-40