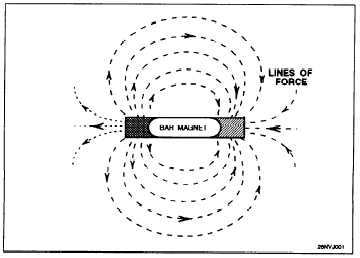 The  Magnetic  Compass
Introduction
Before  we  proceed  to  determine  the  proper  compass  heading  to  steer,
we  must  first  learn  about  the  workings  of  the  magnetic  compass.
To  enable  you  to  understand  the  principles,  we  will  explore  the
properties  of  magnetism.
Magnetism
Magnetism  is  a  phenomenon  of  nature  known  only  by  its  effects.  It
appears  as  a  physical  force  between  two  objects  of  metal,  at  least  one  of
which  has  been  previously  magnetized  and  has  become  a  magnet.
Definition
A  magnet  is  a  metallic  element  that  has  the  property  for  attracting  iron
and  producing  a  magnetic  field  around  itself.  For  the  purpose  of
illustration,  this  magnetic  field  is  usually  pictured  as  lines  of  force.
Figure  2-1.  Magnetic  lines  of  force.
Types  of
Magnetism
There  are  two  types  of  magnetism:  

permanent  

and  

induced.  

A  metal
bar  having  permanent  magnetism  will  retain  its  properties  when  it  is
removed  from  a  magnetic  field.
A  metal  bar  having  induced  magnetism,  however,  will  

lose  

its  properties
when  it  is  removed  from  the  same  field
2-2