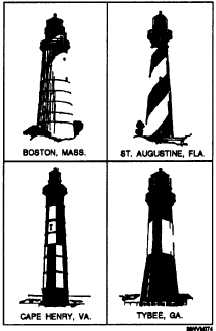 Types of Lights and Light Structures,

Continued
Figure   4-5.   Typical   lighthouses.
Light  Towers
For  many  years,  lightships  were  used  to  mark  offshore  dangers  or  mark
the  entrances  to  important  harbors.  Today,  however,  lightships  are  no
longer  used  in  the  United  States.  Instead,  they  have  all  been  replaced  by
light  towers  or  large  navigational  buoys  (LNBs)  which,  especially  in  the
case  of  the  LNB,  are  much  more  economical  to  maintain.
A  typical  tower  deckhouse  is  60  feet  above  the  water,  80  feet  square,
and  supported  by  steel  legs  in  pilings  driven  nearly  300  feet  into  the
ocean  bottom.  Though  once  manned,  these  light  towers  are  now
automated.  The  light  tower  has  a  helicopter  landing  deck  and  houses
equipment  such  as  a  radiobeacon,  RACON,  fog  signal,  and
communications  equipment.  On  one  comer  of  the  deckhouse  is  a  radio
tower  supporting  the  radiobeacon  antenna  and  a  powerful  light.  At  an
elevation  of  125  feet  above  the  water,  the  light  is  visible  for  over  20
miles.  Although  construction  details  of  other  towers  vary  slightly,  they
are  of  the  same  general  type.
4-15