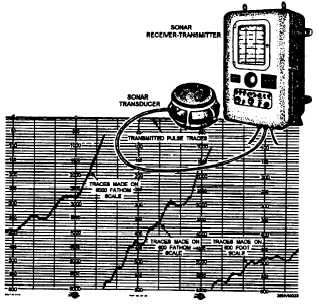 Using the Fathometer
Echo-sounding
Charted  landmarks  on  the  ocean  floor  are  often  useful  in  assisting
Equipment
mariners  in  determining  their  position.  Submarine  trenches,  canyons,
ridges,  and  seamounts  can  all  be  useful  in  navigation.  Echo-sounding
equipment  such  as  the  Navy  AN/UQN-4  is  the  most  common  fathometer
found  on  naval  vessels.  This  fathometer  is  the  most  accurate  for
obtaining  soundings  in  shallow  depths.  The  AN/UQN-4  can  be  set  for
five  different  scales.  It  is  equipped  with  a  digital  display  for  reading  all
scales  and  it  has  a  strip  chart  recorder  that  actually  traces  the  profile  of
the  ocean  bottom  when  reading  the  600-foot,  600-fathom,  or
6,000-fathom  scale.  The  smallest  possible  scale  should  always  be  used.
See  figure  8-26.
Figure   8-26.   Fathometer,   transducer,   and   echogram.
Annotating  the
The  paper  on  which  the  depths  are  recorded  is  used  to  annotate  the
Echogram
following  information  at  the  times  indicated:
The  ship's  name  must  be  placed  at  the  beginning  and  at  the  end  of
each  roll  of  paper.
Time  in  GMT  must  be  marked  at  the  beginning  of  each  watch.
The  current  date  should  be  recorded  each  day  at  1200.
Time  and  date  must  also  be  marked  whenever  the  unit  is  turned  on.
8-41