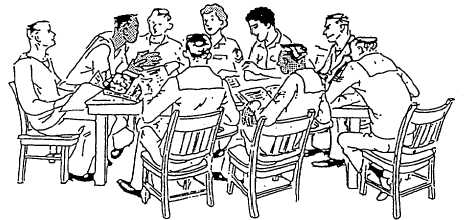 gives   students   more
freedom   to   express
their   opinions.   The
success   of   directed
discussion  depends  to
a  large  extent  on  your
leadership.
A s    i n    p r e v i o us
methods   discussed,
the
success
of
a
discussion   depends   on
c a r e f u l     p l a n n i n g .
Remember   that   some
e l e m e n ts
o f     t h e
discussion   method   are
i n c l u d e d    i n    e v e ry
other
m e t h o d    o f
instruction   except   for
a  straight  lecture.  Your  goal  in  using  the  discussion  method  is  to  actively  involve  your  students
in  the  learning  process.  The  old  Chinese  proverb,  "I  hear  and  I  forget,  I  see  and  I  remember,
I  do  and  I  understand,"    certainly  applies  in  the  training  arena.  Strive  for  maximum  student
involvement.
S U M M A R Y
Every  course  you  teach  will  require  you  to  impart  knowledge  to,  and  develop  the  skills  of
your   students.
In   teaching   those   knowledge   and   skills   you   may   use   different   instructional
methods.  A  combination  of  methods  allows  you  to  add  variety  to  reach  the  diverse  group  of
students  you  may  have.  Your  skill  and  flexibility  in  using  the  different  methods  will  be  the
determining  factor  in  how  effective  the  training  is  in  accomplishing  the  objectives  of  the  course
of   instruction.
The  learning  objectives  determine  the  primary  method  you  will  use  in  a  given  training  setting.
As  a  Navy  instructor,  you  must  be  competent  to  use  each  of  the  methods  dictated  for  your
particular   courses.   That   requires   research,   observation,   and   practice.   You   can   never   learn   too
much   about   training.   Constantly   strive   for   improvement   and   mastery.
62