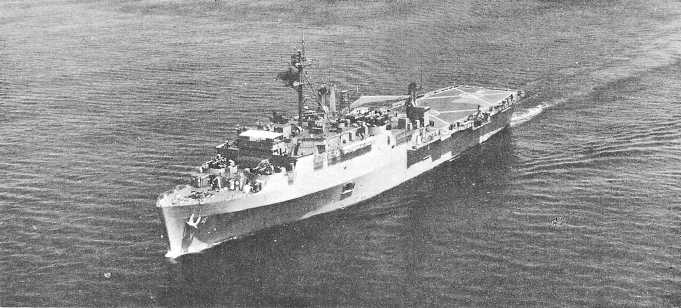 AMPHIBIOUS TRANSPORT DOCK SHIPS.
—The  amphibious  transport  dock  (LPD)  (fig.  19-
13)  achieved  a  long-sought  goal  of  transporting
troops and their equipment in the same ship. With
facilities  for  operating  eight  helicopters,  the  LPD
frequently serves as a satellite to the LPH during
vertical assault operations.
The LPD eliminates the difficulty of off-loading
landing  craft  over  the  side  by  transporting  them
internally    and    launching    them    through    an
opening in the stern. Craft can be launched while
the  ship  is  under  way  or  dead  in  the  water.  The
deck  over  the  well  that  carries  the  landing  craft
provides a platform for six large helicopters. This
deck permits the landing of troops by air as well as
by landing craft.
Austin
Class
Data
Displacement
16,900 tons
Length
570 feet
Beam
105 feet
Draft
21.5 feet
Shaft horsepower
24,000
Accommodations
474
Officers/troops
73/888
AMPHIBIOUS  CARGO  SHIPS.  

—Amphib-
ious  cargo  ships  (LKAs)  carry  large  quantities  of
the  material  and  equipment  needed  to  launch  an
amphibious   attack.   Such   items   include   guns,
provisions,    jeeps,    trucks,    and    tanks.    Cargo
capacity is over 5,000 tons, or about 300 vehicles of
various   types.   These   ships   are   combat-loaded,
which  means  the  cargo  is  placed  aboard  in  the
reverse   order   of   off-loading   to   allow   for   rapid
removal of material that will be needed first. The
ship's  own  landing  craft  deliver  supplies,  plus  a
limited   number   of   troops,   to   the   beach.   USS
Charleston

(LKA-113) is shown in figure 19-14.
DOCK   LANDING   SHIPS.   

—Dock   landing
ships (LSDs) can transport and launch a variety of
loaded   amphibious   craft   and   vehicles   plus   a
limited number of troops. They can provide limited
docking  and  repair  services  to  small  ships  and
craft   and   are   equipped   to   refuel   helicopters
operating   from    the    ship's    helicopter    landing
platform. The LSD has, between its wing walls, a
well  over  300   feet  long  and  about  50  feet  wide.
Before the craft are launched, the LSD is ballasted
down  and  the  well  is  flooded;  the  craft  are  then
moved out under their own power. The LSD 28
3.87
Figure 19-13.-Amphibious transport dock ship USS

Austin

(LPD-4).
19-14