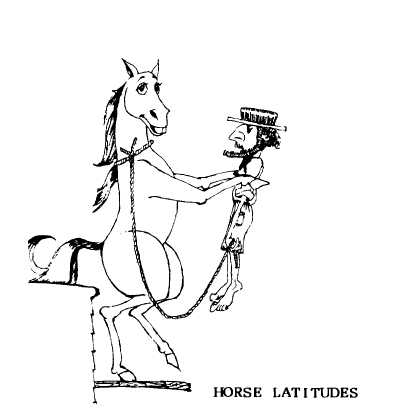 Once   it   meets   that   challenge,   the   result   is
SUGGESTED  READING
predictable—a  ready  force.
Administrative  Procedures  for  Naval  Reservists
on  Inactive  Duty,  

BUPERSINST   1001.39,
Bureau  of  Naval  Personnel,  Washington,
REFERENCES
D.C.,   1989.
Mack,  W.P.,  and  T.D.  Paulsen,   

The   Naval
Navy  Fact  File,  

8Th  Ed.,  Office  of  Information,
Officer's Guide,

9th ed., Naval Institute Press,
Washington,   D.C.,   1988.
Annapolis,   Md.,   1983.
THE  WORDS  OF  SAMUEL  TAYLOR  COLERIDGE
"IDLE  AS  A  PAINTED  SHIP  UPON  A  PAINTED
OCEAN" WELL DESCRIBE A SAILING SHIP'S SITUATION WHEN IT ENTERED THE HORSE LATI-
TUDES.
LOCATED  NEAR  THE  WEST  INDIES  BETWEEN  30  AND  40  DEGREES  NORTH  LATITUDE,
THESE  WATERS  WERE  NOTED  FOR  UNFAVORABLE  WINDS  THAT  BECALMED  CATTLE  SHIPS  HEAD-
ING  FROM  EUROPE  TO  AMERICA.
OFTEN  SHIPS  CARRYING  HORSES  WOULD  HAVE  TO  CAST  SEVERAL  OVERBOARD  TO  CONSERVE
DRINKING  WATER  FOR  THE  REST  AS  THE  SHIP  RODE  OUT  THE  UNFAVORABLE  WINDS.  BECAUSE
SO  MANY  HORSES  AND  OTHER  CATTLE  WERE  TOSSED  TO  THE  SEA,  THE  AREA  CAME  TO  BE
KNOWN  AS  THE
"HORSE    LATITUDES."
15-7