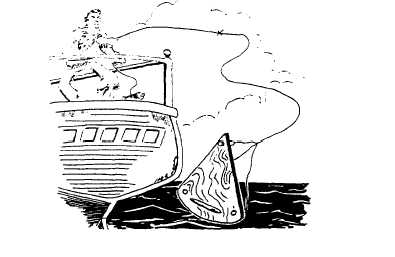 against  damage  is  to  prevent  it.  If  damage  occurs,
however,  all  hands  must  be  trained  in  damage
control procedures to prevent the loss of the ship.
SUMMARY
In this chapter we introduced you to the major
structural  components  of  ships  and  how  they
affect  the  watertight  integrity  of  the  ship.  We  also
explained   the   system   of   numbering   ship
compartments.
The  four  primary  propulsion  plants  used  by
the  Navy  are  the  conventional  steam  turbine,
diesel  engine,  gas  turbine,  and  nuclear  power
plant.   We   discussed   the   advantages   and   dis-
advantages  of  each  type.
Last  but  not  least,  we  talked  about  damage
control.   Once   again,   remember   that   damage
control  is  an  all-hands  evolution.
KNOT
REFERENCES
Basic  Military  Requirements,  

NAVEDTRA
12043,   Naval   Education   and   Training
Program  Management  Support  Activity,
Pensacola,  Fla.,  1992.
Principles  of  Naval  Engineering,  

NAVPERS
10788-B1,  Bureau  of  Naval  Personnel,  Navy
Department,   Washington,   D.C.,   1970.
SUGGESTED  READING
Bland,  D.  A.,  A.  E.  Bock,  and  D.  J.  Richardson,
Introduction  to  Naval  Engineering,   

2d  ed.,
Naval Institute Press, Annapolis, Md., 1985.
Felger, D. G.,  

Engineering  for  the  Officer  of  the
Deck,

Naval  Institute  Press,  Annapolis,  Md.,
1979.
THE  TERM    "KNOT"  OR    "NAUTICAL   MILE"
IS  USED  WORLD  WIDE  TO
DENOTE  A  SHIP'S  SPEED  THROUGH  WATER.  TODAY,  WE  MEASURE  KNOTS
WITH  ELECTRONIC  DEVICES,    BUT 200 YEARS AGO SUCH DEVICES WERE
UNKNOWN.
INGENIOUS  MARINERS  DEVISED  A  SPEED  MEASURING  DEVICE
BOTH EASY TO USE AND RELIABLE:
THE "    LOG LINE. " FROM THIS
METHOD WE GET THE TERM "KNOT. "
THE LOG LINE WAS A LENGTH OF TWINE MARKED AT 47.33-FOOT
INTERVALS  BY  COLORED  KNOTS.
AT ONE END WAS FASTENED A LOG
CHIP;
IT WAS SHAPED LIKE THE SECTOR OF A CIRCLE AND WEIGHT-
ED AT THE ROUNDED END WITH LEAD.    WHEN THROWN OVER THE STERN,
IT WOULD FLOAT POINTING UPWARD AND WOULD REMAIN RELATIVELY
STATIONARY.
THE LOG LINE WAS ALLOWED TO RUN FREE OVER THE
SIDE FOR 28 SECONDS AND THEN HAULED ON BOARD. KNOTS THAT HAD
PASSED  OVER  THE  SIDE  WERE  COUNTED.
IN THIS WAY THE SHIP'S
SPEED  WAS  MEASURED.
17-12