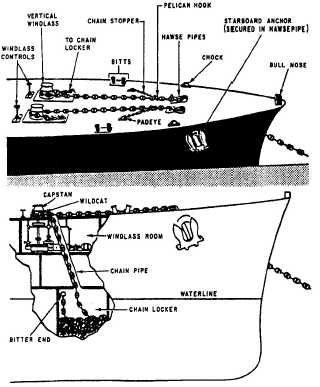 CHAPTER 18
EXTERNAL EQUIPMENT OF SHIPS
LEARNING OBJECTIVES
Upon completion of this chapter, you should be able to do the following:
1.   Identify the ground tackle used on Navy
ships.
2.   Identify the boats and survival equipment
used on Navy ships.
3.    Identify various equipment used on the bridge of
Navy ships.
4.    State the purpose of antennas and radar on Navy
ships.
The   external   equipment   of   a   ship   differs
according to ship type. For example, a guided-missile
cruiser  (CG)  might  have  guns,  missiles,  torpedoes,
and  a  close-in  weapons  system  (CIWS).  However,  a
tank landing ship (LST) may only have guns and the
CIWS for armament. The LST has bow ramps and a
stern  gate,  but  the  CG   doesn't.   Both   ships   have
similar ground tackle, boats, and survival gear.
In  this  chapter  we  will  look  at  some  of  the
ground  tackle   used   on   Navy   ships.   We   will   also
identify   some   of   the   boats,   survival   gear,   bridge
equipment,  and  other  various  gear  used  on  Navy
ships.
GROUND TACKLE
Ground  tackle  is  the  equipment  ships  use  in
anchoring   and   mooring   with   anchors.   It   includes
anchors;  anchor  cables  and  chains;  and  associated
equipment, such as chain stoppers, bending shackles,
outboard  swivel  shots,  and  detachable  links.  Figure
18-1 shows a typical ground tackle arrangement on a
forecastle.
ANCHORS
Anchors    can    be    defined    by    their    stowage
locations    aboard    ship    or    by    their    type    of
construction.  Bower  anchors  are  carried  on  the
Figure 18-1.—Typical ground tackle and chain
stowage.
18-1