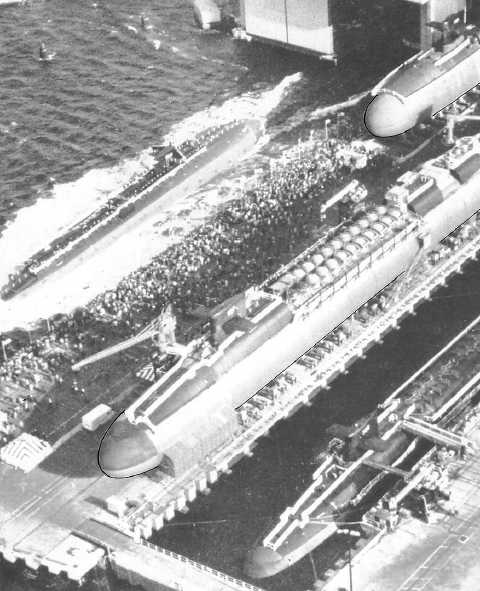 ballistic missile submarines  (SSBNs)  deliver  ballistic
missile attacks against assigned targets from either a
submerged or surfaced condition. Nuclear   propulsion
has    turned    the    submersible    ship    into    a    true
submarine     that     no     longer     requires     frequent
replenishment  of  fuel  and  supplies.  (Examples:  (1)
The  

Nautilus,  

our  first  SSN,  steamed  over  62,000
miles without refueling; (2) during a test, the

Seawolf
remained   submerged   for   60   days;   (3)   the   

Triton
traveled  around  the  globe  under  water,  remaining
submerged  for  83  days.)  The  submarine's  crew  does
not depend on the earth's atmosphere for air. Units of
air-revitalization
equipment
clean
the
air
continuously.  Electrolytic  oxygen  generators  permit
the   submarine   to   extract   its   own
oxygen   from
seawater.
In July 1960 USS

George Washington

(SSBN-598)
successfully  launched,  for  the  first  time,  a  Polaris
guided missile from under water. This shot radically
changed the old concept of submarine warfare, which
was simply  to  sink  enemy  ships  or  submarines  with
torpedoes.
Now
nuclear-powered,
high-speed
submarines  are  able  to  cruise  for  months  at  a  time.
They  can  launch  an  effective  attack  against  targets
on   shore   while   remaining   virtually   immune   to
retaliation.  All  sub-marines  now    being  built  have
nuclear propulsion.
The  oldest  SSBNs  are  being  decommissioned  or
converted  to  fulfill  SSN  duties.  Other  SSBNs  are
being converted to carry Trident missiles. The newest
SSBN   class,   the   Ohio   class,   carries   Trident   II
missiles.   The   Ohio   class   is   the   largest   undersea
134.112
Figure 19-9.-Two Ohio-class SSBNs under construction and a Los Angeles-class SSN being
launched.
19-10