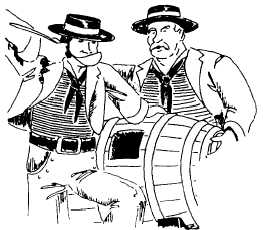 Without  the  services  provided  by  these
REFERENCES
members  of  the  Navy  team-,  we  would- not  be
able   to   accomplish   the   mission   of   the   Navy.
"Medical   Department   Reorganization,"   

Navy
Although  it  is  the  motto  of  the  Supply  Corps,
Medicine  

80, no. 4 (July - August 1989): 8-9.
"Service   to   the   fleet"   applies   to   all   of   these
Navy  Fact  File,  

8th  ed.,  Office  of  Information,
elements.
Washington,   D.C.,   1988.
SCUTTLEBUTT
THE ORIGIN OF THE WORD    "SCUTTLE  BUTT,"  WHICH  IS  NAUTICAL  PAR-
LANCE FOR A RUMOR,
COMES FROM A COMBINATION OF "SCUTTLE, " TO MAKE
A  HOLE  IN  THE  SHIP'S  SIDE  CAUSING  HER  TO  SINK,  AND  "BUTT,"  A
CASK  OR  HOGSHEAD  USED  IN  THE  DAYS  OF  WOODEN  SHIPS  TO  HOLD  DRINK-
ING  WATER;
THUS THE TERM    "SCUTTLEBUTT"  MEANS  A  CASK  WITH  A  HOLE
IN   IT.
"SCUTTLE"
DESCRIBES  WHAT  MOST  RUMORS  ACCOMPLISH,  IF  NOT
TO  THE  SHIP,  AT  LEAST  TO  MORALE.  "BUTT"  DESCRIBES  THE  WATER
CASK WHERE MEN NATURALLY CONGREGATED, AND THAT'S WHERE MOST
RUMORS  GET  STARTED.
THE  TERMS  "GALLEY  YARN"  AND  "MESS  DECK
INTELLIGENCE"  ALSO  MEAN  THE  SPREADING  OF
COURSE,  START  ON  THE  MESS  DECK.
RUMORS  AND  MANY,  OF
13-14