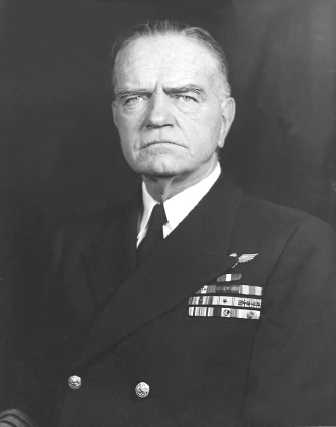 Nimitz  received  some  15  decorations  and  awards
from  foreign  governments.   After   his   release   from
active  duty,  he  served  for  8  years  as  Regent  for  the
University    of    California.    He    received    honorary
degrees  from  19  universities  and  colleges,  including
Notre   Dame,   Columbia,   Northwestern,   Syracuse,
Tulane, Harvard, and Princeton.
WILLIAM FREDERICK HALSEY, JR
Admiral  Nimitz  was  fortunate  to  have  under  his
command   many   extremely   resourceful,   intelligent,
dedicated, and courageous officers. Among these were
such commanders as Raymond A. Spruance, Thomas
C. Kinkaid, Marc A.  Mitscher,  John  S.  McCain,  and
R.   K.   Turner.   Probably   the   most   famous   leader,
however, was Admiral William F. (Bill) Halsey (fig. 2-
15).    (Although    reporters    tagged    him    with    the
nickname "Bull," Halsey disliked it because it seemed
flamboyant.) His determination to succeed earned
134.133
Figure 2-15.-Admiral Halsey was an exceptional
commander. Although he had a flair for
doing the spectacular in a dashing way, his
valor and audacity were tempered by
tactical discretion. Admiral Nimitz, then
CINPAC, once said of him, "He...can calculate
to a cat's whisker the risk involved."
him the designation of naval aviator at the age of 52,
a  prerequisite  to   being   assigned   a   captain   of   an
aircraft carrier.
During  the  attack  on  Pearl  Harbor,  Halsey  was
about  200  miles  at  sea.  He  was  returning  to  Pearl
Harbor  in  his  flagship  

Enterprise  

from  Wake  Island
where  he  had  delivered  Marine  Fighter  Squadron
221.  He  took  no  part  in  the  action  except  to  launch
aircraft in a fruitless search for the enemy.
Early  in  1942  Admiral  Nimitz  chose  Halsey  to
conduct the first offensive raid in the central Pacific.
Halsey's   forces   of   2   carriers,   5   cruisers,   and   10
destroyers made a bold attack beginning 1 February
against   the   Japanese-held   Gilbert   and   Marshall
Islands.  They  bombed  and  bombarded  enemy  bases
on   nine   separate   islands.   During   the   action,   the
heavy  cruiser  

Chester  

took  one  bomb  hit,  and  the
flagship

Enterprise

was grazed on the flight deck by a
suicide pilot; no other ships were damaged during the
entire   operation.   Among   other   benefits,   the   raid
reestablished the offensive spirit within the Navy and
answered a question being asked at home—"Where is
the Navy?"
Four  months  after  the  "Day  of  Infamy"  (Pearl
Harbor),   Halsey's   forces   conducted   a   unique   and
dangerous carrier operation. They transported 16  B-
25 Army bombers across an ocean and launched them
650 miles off enemy shores. The squadron of planes,
led  by  Lieutenant  Colonel  James  Doolittle,  took  off
from the

Hornet

to bomb Tokyo. That attack boosted
American morale, which at that time was very low.
Halsey's  flagship,  the  

Enterprise,  

was  the  first
carrier awarded a Presidential Unit Citation in World
War  II.  The  citation  was  presented  for  consistently
outstanding
performance
and
distinguished
achievements     during     repeated     action     against
Japanese   forces.   The   

Enterprise,   

under   Halsey's
leadership,  took  part  in  nearly  every  major  carrier
engagement in the first year of the war. Exclusive of
the    damage    and    destruction    of    hostile    shore
installations  throughout  the  battle  area,  it  sank  or
damaged 35 enemy ships and shot down 185 aircraft.
The

Enterprise

was reported sunk by the Japanese so
many times it became known as "the galloping ghost
of the Oahu coast. "
On    18    October    1942    Halsey    was    appointed
Commander  of  the  South  Pacific  Force  and  South
Pacific  area.  Starting  with  the  decisive   American
victory in November  at  Guadalcanal,  Halsey's  forces
stopped the Japanese advance in the South
2-19