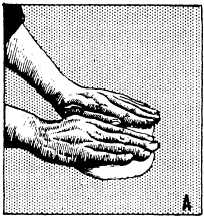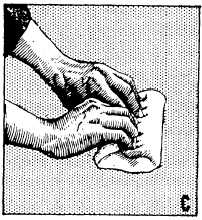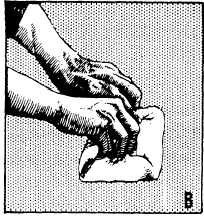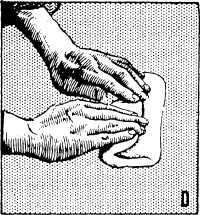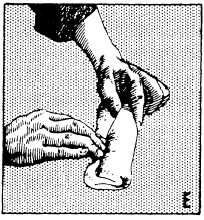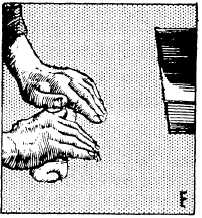 After the dough is molded into a loaf, place it in a
lightly greased pan. Each loaf should be placed so that
the molding seam is on the bottom, and the loaf should
be long enough to reach the ends of the pan. Figure 8-1
provides an example of the molding and shaping of
dough into a loaf.
PAN   GREASING.—   

The  primary  purpose  of
lightly  greasing  the  bread  pan  is  to  prevent  the  bread
from sticking when it is removed. Too much grease on
the pan surface can seriously affect the proofing, baking,
and slicing of the bread.
PAN PROOFING.—

After  shaping  and  panning,
loaves  should  be  placed  in  a  properly  controlled  room
or cabinet called the proof box or proof cabinet for the
final proof or pan proof. Temperature of the cabinet
should be maintained at 90°F to 100°F. During pan
proofing, the action of the yeast is speeded up by the
higher  temperature  and  the  gluten  becomes  more
mellow  and  elastic.
To determine whether the loaf is properly proofed,
touch it lightly with one fingertip and press in slightly.
If the impression made by the tip of the finger remains,
the loaf is proofed. If the imprint does not remain and
fills out when the fingertip is removed, the loaf is still
too compact and should be proofed more. Usually, 50
to  75  minutes  is  sufficient.
BAKING.—

The final stage in bread production is
to place the pans of dough in an oven that is heated to a
temperature  sufficient  to  heat  the  dough  quickly
(temperature  specified  on  AFRS  recipes)  and  to  cause
the carbon dioxide of the dough to expand, thereby
greatly  increasing  the  size  of  the  dough.  The  oven
PRESS GAS
OUT OF DOUGH
PRESS FIRMLY
TO SEAL
FORM  RECTANGLE
FOLD RECTANGLE
LENGTHWISE
FOLD AGAIN
Figure 8-1.-Molding and shaping bread dough.
8-6
ROLL  TO  COMPLETE
SEALING