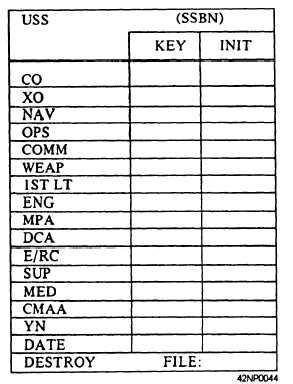 loose-leaf  binder,  a  file  folder,  or  a  two-post  clipboard.
These logs consist of the second carbon copy of the
Correspondence/Material   Control   Form,   OPNAV
5216/10.   Control   forms   are   filed   numerically   by
activity  control  number  (ACN).
Outgoing Mail Log
An outgoing mail log is maintained for material
transmitted  via  certified  or  registered  mail  (including
registered guard mail and Confidential or unclassified
material when sent via certified/registered mail). This
log is maintained by one of your command's Yeomen
and  should  contain  the  following  information  on  each
piece of mail that is dispatched:
Registry/certified  number
Contents
Addressee
Signature of person preparing item for mailing
Date and time of delivery to GMPO
Signature  of  GMPO  to  whom  delivered
The purpose of the outgoing mail log is to have a
chronological  record  of  all  outgoing  material  from  the
command whether the material is sent via registered or
certified mail. Top Secret material is transmitted by the
Defense Courier Service (DCS) and other authorized
individuals as specified in chapter 15 of  

Department  of
the Navy Information and Personnel Security Program
Regulation,  

OPNAVINST  5510.1.
RECEIPT  PROCEDURES
Normally,  designated  YNs  or  PNs  receive  all
incoming   mail   except   Top   Secret.   All   of   the
commanding  officer's  mail  should  be  opened  upon
receipt, and a quick check made for correspondent that
deserves immediate attention. When registered mail is
received at your command, log receipt of this mail in
the  GMPO  log.
When the designated YN or PN has opened the
incoming  mail  and  determined  that  it  is  unclassified,
he/she must sort it into two categories—routing without
a route slip or routing with OPNAV Form 5216/10.
Unclassified   Correspondence
For unclassified mail not requiring control, a rubber
stamp (fig. 4-3) with check boxes is used for routing.
Figure 4-3.—Sample routing stamp.
Thus, the correespondence itself bears a complete record
of individuals who have to see it.
Most commands have their own routing stamp.
This stamp shows a command's internal departmental
structure and is similar to the one shown in figure 4-3.
Control Mail
Mail to be controlled is routed using the OPNAV
Form  5216/10  (fig.  4-1).  Mail  to  be  controlled  may
consist  of  unclassified  mail  that  requires  action,  mail  of
historical importance to the command, and mail that has
future  reference  value.
Confidential  and  Secret  Correspondence
Confidential  correspondence  may  be  divided  into
two  categories:
1.
2.
Noncontrolled  Confidential  mail,  which
provides  general  information  and  does  not
require  a  reply  and  for  which  routing  is
accomplished by the use of a rubber stamp.
Controlled Confidential mail, which requires
action,  has  historical  importance,  or  future
reference  value.
4-5