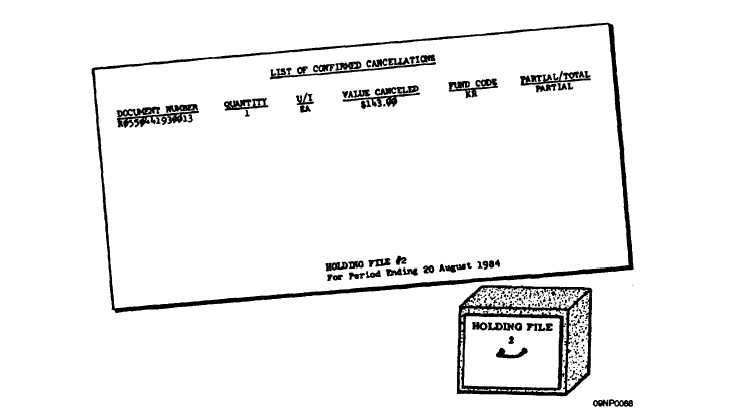 Figure 10-15.-List of Confirmed Cancellations  entry, partial receipt-balance  canceled.
vice versa. An item's cognizance symbol at the time the
supply activity processes it for release and shipment
determines if it is chargeable or nonchargeable. This
"cog" symbol is shown in data block "R" on the DD
Form  1348-1.  The  "cog"  symbol  in  the  DD  Form
1348-1  "Distribution"  block  is  always  identical  to  the
one cited on the ship's requisition and you can spot
"cog"   changes   by   comparing   block   "R"   with   the
"Distribution" block or by comparing block "R" with
the corresponding log entry. This method of comparing
is  illustrated  by  figure  10-16,  and  the  necessary
Requisition/OPTAR  Log  entries  are  as  described  in  this
chapter   under   the   heading,   "Cognizance   Symbol
changes."
OPTAR DOCUMENT TRANSMITTALS
The DAO serves as a clearing house in the flow of
funds  and  accounting  data  between  ships  and  supplying
activities.  This  is  done  by  matching  the  supplying
activities   expenditure   documents   to   the   ships'
chargeable  unfilled  orders.  The  matching  process
validates the expenditures that have been made on the
ships'  behalf.  To  enable  the  DAO  to  perform  this
matching process, ships are required to send in their
chargeable unfilled orders that is their DD Form 1348
green copies that have been filed in Holding File 1.
The  DAO  for  Atlantic  Fleet  ships  is  located  in
Norfolk.  The  DAO  for  Pacific  Fleet  ships  is  located  in
San  Diego.
Price  changes,  partial  cancellations,  and  complete
cancellations,   among   other   things,   can   change   a
requisition so that it hardly resembles the original
unfilled  order  submitted  by  the  Ship  to  the  DAO.  The
supplying activity informs the ship of such changes
through  status  cards  and  receipt  documents.  The
supplying activity does  

not,

however, inform the DAO.
It is the responsibility ot the ship to advise the DAO of
these changes by sending the contents of Holding Files
2 and 3, along with the contents of Holding File 1, to
the DAO on a routine basis.
NOTE Holding File 1 and Holding File 3 for the
last fiscal year's OPTAR will only be maintained from
October  through  March.
OPTAR DOCUMENT TRANSMITTAL
REPORT
The ship is required to send an OPTAR Document
Transmittal  Report  NAVCOMPT  Form  2156  to  the
10-17