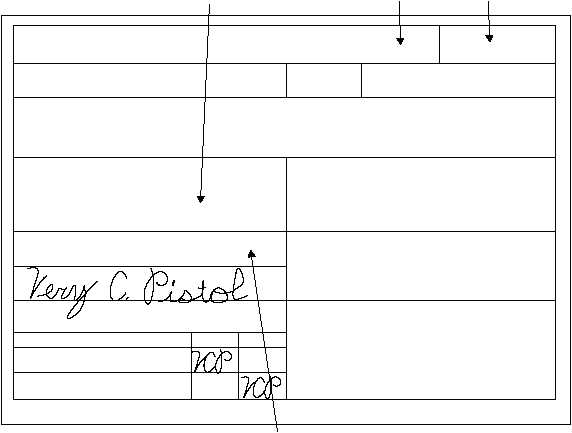 with a person's current address, replace the old cards in
the directory file and forward mail as required.
You should also inform transferees the delivery of
mail while they are en route to their new duty station is
impractical,  and  advise  them  against  the  use  of  an
intermediate activity as an interim address.  Suggest to
them, instead, that they use a nonmilitary address on
their change of address cards.
If a person is transferred for discharge, a complete
civilian  forwarding  address  should  be  furnished.   If
discharged personnel do not desire to have their mail
forwarded to a civilian address, they must indicate this
on their directory card and sign it.   In this case, their
mail   is   marked   NOT   DELIVERABLE   AS
ADDRESSED—UNABLE  TO  FORWARD  and
returned to the mailer.
To  reduce  the  amount  of  mail  received  after  a
person  transfers,  advise  transferees  to  notify
correspondents  of  their  new  address  as  soon  as
possible.    The  sooner  and  more  often  individuals
advise their correspondents of the change, the fewer
pieces  of  mail  you  will  have  to  forward  to  them.
Personnel being transferred should advise publishers
of their new address or notify publishers to discontinue
mailings of subscription matter until advised of a new
permanent address.  OPNAV Form 5110/5 is used for
this purpose.  Be sure that the publication key number,
when available, is entered on the card.  Your customer
may be able to obtain this number from the old address
label.  Most publishers and firms specifically request
that both the old and the new addresses be furnished,
and  that  an  old  address  label  be  provided  to  aid  in
identifying  the  subscriber  or  the  customer,  and  the
account.   This can be done by taping the old address
label to the change of address card.   Ensure that the
new  address  is  not  covered  or  otherwise  made
illegible.
PURGING DIRECTORY CARDS FOR
DESTRUCTION
When  an  individual  is  no  longer  served  by  the
postal activity, code the directory card for destruction
so that a minimum of 12 months directory service is
provided. For example, if an individual departs in May
2001,  you  should  code  the  directory  card  for
destruction  in  June  2002  (see  figure  11-3).    If  an
11-3
AOf1103
NOTICE OF CHANGE OF ADDRESS
OPNAV 5110/5 (Rev 3-90)
S/N 0107-LF-0092500
NAME (Last,  first,  middle)
PISTOL, VERRY C.
S-1 DIV
USS UNDERWAY (CV-66)
FPO AE 09561-0001
SK1
23 JUN 01
888-88-8888
23 MAY 01
6/02
RANK/RATE
DATE
NEW ADDRESS 

(Consult SNDL for address)
OLD ADDRESS 

(Attach mailing label for publisher)
ESTIMATED REPORTING DATE
DEPENDENT'S NAME (If applicable)
Connie J.
Marry L.
Tom E.
SIGNATURE
ITEM
YES
NO
MAGAZINES
NEWSPAPER
THIS SPACE FOR POSTAL CLERK
*U.S.GPO: 1993-0-0704-079/80671
SOCIAL SECURITY NUMEBR
PURGE DATE
DATE DEPARTED
ESTIMATED DATE PF ARRIVAL
(PROJECTED REPORTING DATE)
FORWARDING ADDRESS
PRIVACY ACT STATEMENT: Authority:  Tile 39 USC and DOD/US Postal Service Agreement, 2 Feb 59
PRINCIPLE PURPOSES:  To route or forward (directory) mail. ROUTINE USES:  Use by military and civilian personnel in mail functions.
Data are inspected by commanders, postal officers, and military and civilian inspectors. Disclosure is voluntary; however, failure to
provide the requested information could result in inability to forward mail.
FORWARD SECOND CLASS MATTER FOR 60 DAYS
S-1 DIV
USS NEVERSAIL (CG-10)
FPO AE 09556-0001
Figure 11-3.—An example of an OPNAV 5110/5 for a member who has departed.