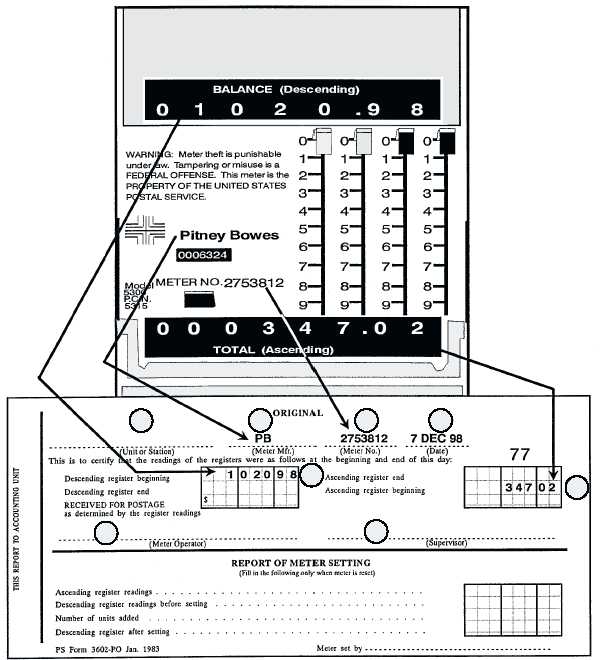 Each  day  the  meter  is  to  be  used,  the  meter
custodian should enter the following information on
PS Form 3602-PO (see figure 8-10):
Block 1:  UNIT OR STATION.  Enter the station where
the  meter  is  assigned.     For  example,  FPO  AE
09561-0001.
Block  2:    METER  MFR.    Enter  the  manufacturer's
name. For example, Pitney-Bowes. Abbreviations such
as "PB" are permitted.
Block  3:   METER  NO.   Enter  the  meter  head  serial
number  located  just  above  the  high  denomination
button.
Block 4:  DATE.  Enter the current date.
Block 5:   DESCENDING REGISTER BEGINNING.
Obtain this number from the meter head's "BALANCE
(Descending)" register reading.   To avoid mistakes on
PS Form 3602-PO, write the numbers from right to left
and  exclude  preceding  zeroes.
For  example,  if  the
register window shows "01020.98"

, 

first write "8," then
8-19
1
2
3
4
6
7
8
5
PCf0810
FPO AE 09561-0001
ABS
JRD
Figure 8-10.—An example of start of the day entries on PS Form 3602-PO.