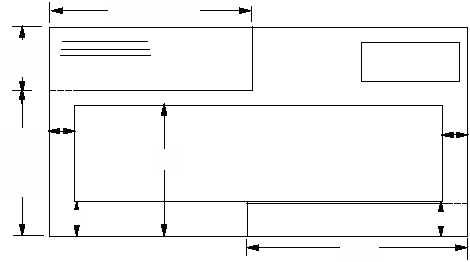 that registered, insured, certified and return receipt for
merchandise  mail  be  held  a  maximum  of  l5  days.
Accountable mail should not be held for less than 3
days.
MILITARY ADDRESSES
Mail addressed to military addresses should be in
the format shown in parts l and 2 of the SNDL, and
Module A of the DMM (see figure 3-l0).  Some of the
requirements for military addresses are as follows:
Only obvious abbreviations must be used such as
U.S., USS, c/o, LST, FPO, and so forth.
Addresses of ships must include the full official
name as well as the ship's class and hull number,
such  as  USS  John  Paul  Jones  (DDG-32),  and
applicable FPO ZIP Code.
Addresses should include the four-digit add-ons
for all official mail (add-on digits are located in
the SNDL, parts 1 and 2, USPS PUB 65-A, and
the USPS web site.
Addresses  of  Navy  aircraft  squadrons  and
detachments need only use the short designation
such as VF-l2.   When the full name is used, it
must also include the short designation such as
Fighter Squadron l2 (VF l2).
Geographic locations must not be used together
with an FPO or APO ZIP Code in a mail address
unless assigned as a part of the official title.
FPO ZIP Codes assigned to a shore activity must
not  be  used  in  addresses  of  ships,  mobile
commands,    mobile    units,    or    mobile
detachments,  unless  assigned  as  a  part  of  the
address in the SNDL, part l, or in a composite
address for service craft overseas.
Whenever  box  numbers,  barracks,  or  division
numbers are used as a part of a mail address for
purposes  of  speeding  up  local  distribution  of
mail, they should be included on the second line
of the address.
Mail  must  not  be  addressed  to  task  forces,
groups, elements, or units by task organization
numbers  (CTF  77,  TF  77,  CTG  80.2,  and  so
forth) unless so listed in the SNDL.
Mail  showing  a  foreign  city  and  country  in
addition to the military address is subject to the
rates of postage and conditions for international
mail.
The  use  of  an  FPO  ZIP Code  has  the  following
benefits:
Affords greater control of mail
Qualifies mail for domestic postal rates
A uniform system for addressing mail
3-10
OCR READ ROOM
POSTAGE AREA
BARCODE CLEAR ZONE
NEVER
LOWER
THAN 2 3/4"
FROM
BOTTOM
33.3%
OF
HEIGHT
50% OF LENGTH
1/2"
1/2"
2 3/4"
4 3/4"
5/8"
5/8"
PCf0308
Figure 3-8.—Example of address placement on letter mail.
MR JOHN DOE
3484 WYANDOTTE ST
BATON ROUGE LA 70805-5868
Figure 3-9.—Example of ZIP Code placement.