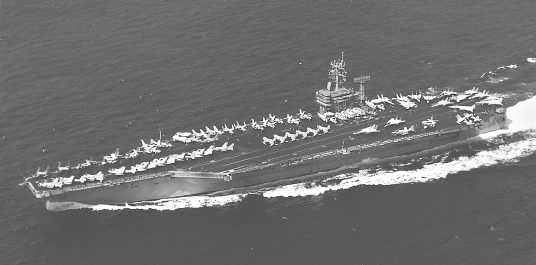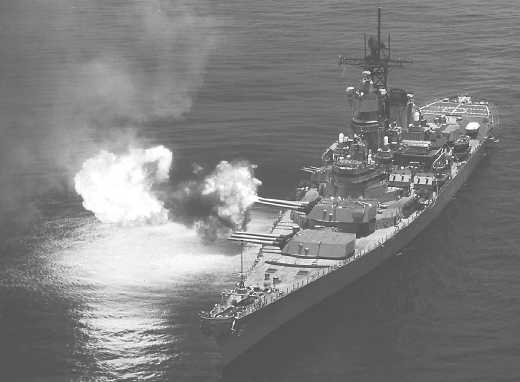 134.107
Figure 19-1.-Aircraft carrier USS

Dwight

D

.

Eisenhower

(CVN-69) under way with embarked aircraft.
134.108
Figure 19-2.-USS

Iowa

(BB-61) firing its no. 2 turret.
Surface Combatants
Surface    combatant    ships    are    battleships,
cruisers, destroyers, and frigates.
BATTLESHIPS.  

—Battleships  (BBs)  partici-
pated  in  few  surface  engagements  in  World  War
II.    However,    with    their    large    number    of
antiaircraft   guns,   they   proved   to   be   excellent
support ships in carrier task forces. They provided
gunfire  support    for  amphibious  landings  in  both
the   Pacific   and   European   theaters—only   their
large-caliber    guns    could    knock    out    heavily
reinforced gun emplacements. They also  provided
gunfire  support  in  the  Korean  War.   The   

New
Jersey

 

was  activated  for  a  short  period  of  service
during    the    Vietnam     War     and     was     then
decommissioned.  Today,  four,  BBs,  the  

Iowa

 (fig
19-2),

New Jersey, Missouri

, and

Wisconsin

, are in
active service.
19-5