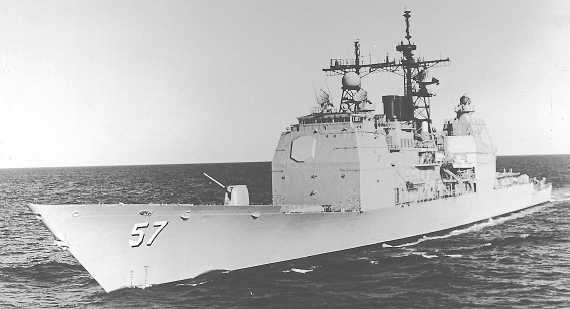 The   United   States   traditionally   named   battle-
ships  after  states.  Since  our   nation  is  unlikely  to
build any more battleships, it now  gives state names
to  cruisers,  such  as  the  

California  

(CGN-36),  and
submarines   (SSBNs),   such   as   the   

Ohio   

and   the
Michigan.
CRUISERS.
—Cruisers
are
medium-sized,
general-utility   ships.   They   have   a   large   cruising
range and are capable of high speeds (over 30 knots).
They serve as protective screens against surface and
air attacks and also provide gunfire support for land
operations.   Because   of   modern   high-performance
aircraft  and  guided  missiles,  the  cruisers  in  service
today are designed to carry guided missiles. The two
basic types of cruisers are the guided-missile cruiser
(CG) and  guided-missile  cruiser  (nuclear  propulsion)
(CGN). Cruisers displace about 10,000 to 21,500 tons.
The CG carries guns as well  as  missiles.  The  CG-47
class (fig. 19-3) is the first to employ vertical launch
missile   tubes   and   the   shipboard   integrated   AAW
combat weapons system (Aegis). CGNs are  the same
as   the   CGs   except   that   their   main   engines   are
nuclear powered.
At one time cruisers were named after  cities;  but
after the completion of the

Long Beach

(CGN-9), the
names  of  cities  were  assigned  to  newly  constructed
auxiliary  ships  (AOEs/AORs/  AFSs).  The  names  of
cities are also given to attack submarines, beginning
with the Los Angeles (SSN-688) class. Several active
cruisers, formerly classified as guided-missile frigates
and  named  after  Navy  and  Marine  Corps  personnel
and Secretaries  of    the  Navy,  have  retained   their
destroyer-type names. Other cruisers, beginning with
the CGN-36, are named after states. The CG-47-class
cruisers are named after revolutionary war battles.
DESTROYERS.  

—Destroyers  (DDs)  and  guided-
missiles  destroyers  (DDGs)  are  multi-purpose  ships
that are useful in almost any kind of naval operation.
They are fast ships with a variety of armament, but
little  or  no  armor.  For  protection,  they  depend  on
their  speed  and  mobility.  Their  displacement  varies
from about 4,500 tons to 7,800 tons.
The  principal  mission  of  destroyers  is  to  operate
offensively  and  defensively  against  submarines  and
surface ships and to take defensive action against air
attacks.   They   also   provide   gunfire   support   for
amphibious assaults and perform patrol, search, and
rescue missions.
The destroyer's armament consists of 5-inch guns
and  a  variety  of  antisubmarine  weapons,  such  as
torpedoes,   antisubmarine   rockets   (ASROCs),   and
Terrier and Tartar missiles.
Traditionally,  destroyers  have  been  named  after
officers   and   enlisted   personnel   of   the   Navy   and
Marine  Corps  and  Secretaries  of  the  Navy.  Because
destroyers  make  up  the  Navy's  largest  group  of  si-
milar  types  of  ships,  we  will  mention  only  a  few  to
give you some idea of the several types and classes.
The Navy's destroyer of  the  future  is  the  Arleigh
Burke   class   (DDG-51)   (fig.   19-4).    The    all-steel
construction of     the    DDG-51   is designed
134.109
Figure 19-3.-USS

Lake

Champlain

(CG-57) under way during sea trials.
19-6