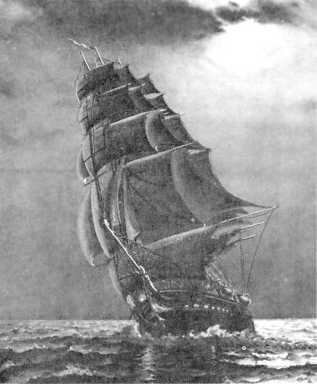 WAR WITH FRANCE
SIGNIFICANT DATES
14 Jul. 1813
LT John M. Gamble, USMC,
becomes first Marine officer to
command a ship in battle.
10 Sep. 1813     Oliver Hazard Perry, in Battle of
Lake Erie, defeats a British naval
squadron for the first time in
history.
8 Jan. 1815
United States wins Battle of New
Orleans.
22 Mar. 1820    Commodores Stephen Decatur
and James Barron duel near
Washington, D.C., resulting in
Decatur's death. Dueling in the
Navy is outlawed following that
incident.
16 Dec. 1835     Greatest fire in history of New
York City occurs; firemen are
aided by the Navy and Marines.
14 Feb. 1840     Several officers and mascot dog
from USS

Vincennes

relax on
floating ice after arriving in
Antarctic regions; they are first
Americans to enter that region.
After the revolutionary war, the fortunes of the
navy declined, and by 1785 its last ship had been
sold.  Little  remained  except  fighting  traditions.
When  the  U.S.  Constitution  went  into  effect  in
1789,   the   War   Department   was   charged   with
directing both the army and the navy. At that time
these   forces   consisted   of   only   a   few   hundred
soldiers and no ships or marines.
This  absence  of  naval  strength  soon  proved
disastrous   because   Barbary   pirates   began   cap-
turing  our  merchant  ships  and  imprisoning  their
crews.  In  1794  public  sentiment  moved  Congress
to authorize the building of six frigates to protect
our  interests.  Thus,  the  United  States  Navy  was
permanently established under the Constitution.
The   makers   of   naval   tradition   during   this
period  were  responsible  for  some  vast  improve-
ments  in  our  conventional  Navy.  These  improve-
ments,   which   helped   to   make   the   Navy   more
powerful,  included  more  advanced  ship  designs
and better leadership.
JOSHUA HUMPHREYS
President
Washington
appointed
Joshua
Humphreys, a Philadelphia Quaker, to design the
first  six  frigates  of  the  new  U.S.  Navy.  He  thus
became  our  first  naval  constructor.  A  technical
genius, Humphreys was also a farseeing student of
naval history who exerted a tremendous influence
upon  the  U.S.  Navy.  He   believed   our   "vessels
should    combine    such    qualities    of    strength,
durability, and swiftness of sailing, and force as to
render  them  superior  to  any  frigate  belonging  to
the
European
Powers."
Departing
from
conventional   standards,   he   designed   the   best
frigates  that  sailed  the  seas—frigates  that  could
run or fight at will and fight on their own terms.
His    chief    innovations    provided    for    heavier
batteries;  thicker  timber;  finer  lines;  and  longer,
stouter   spars   than   those   of   frigates   of   other
powers. Several years later the Royal Navy paid a
compliment  to  Humphreys'  skill  by  constructing
frigates according to his designs. Humphreys drew
up  plans  for  the  six  famous  frigates,  the  

United
States, Constitution

(fig. 2-3),
134.5
Figure 2-3.-The new and radical USS
Constitution
, built for speed and firepower,
helped to rid the Mediterranean of the
Barbary pirates.
2-5