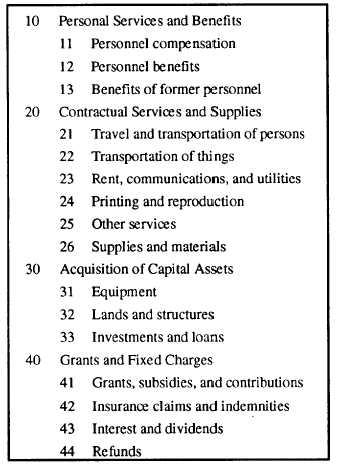 As  shown  in  figure  2-3,  there  are  four  major
categories of object classes: (1) personal services and
benefits,  (2)  contractual  services  and  supplies,
(3) acquisition of capital assets, and (4) grants and fixed
charges.
The  Office  of  Management  and  Budget  (OMB)
directs the use of these classifications whenever the
object class is required in the submitting of budget
requests and reporting of data. The object class will
appear  as  part  of  the  accounting  code  required  for
obligations, costs, or disbursements.
BUREAU CONTROL NUMBER
The fourth element in the accounting classification
code is the bureau control number. As shown in figure
2-2 (number 4), the bureau control number consists of
five  digits  and  represents  the  allotment  authorization
number. All funds within an appropriation account to
be  used  for  commitments,  obligations,  and  expenditures
are  issued  through  allotments.  An  allotment  is  a
subdivision  of  the  appropriation  that  provides  the
funding authority for the accomplishment of a specific
function or mission. The first two digits of the bureau
Figure 2-3.-Major categories of object classes.
control number designate the budget project; the next
three digits constitute the serial number assigned to the
allotment.
In  some  cases,  funds  are  not  provided  by  an
allotment. In these cases, the bureau control number is
coded  to  identify  other  necessary  accounting
information.
SUBALLOTMENT
The  suballotment  is  the  fifth  element  of  the
accounting classification code. (Refer to number 5 in
figure 2-2.) It further subdivides the allotment. The
suballotment consists of one character that can be either
alpha  or  numeric,  as  determined  by  the  holder  of  the
allotment.
AUTHORIZATION  ACCOUNTING
ACTIVITY
As   shown   in   figure   2-2,   the   authorization
accounting  activity  is  the  sixth  element  of  the
accounting classification code. It is composed of six
digits and identities the activity designated to perform
allotment   accounting   and   other   accounting
assignments.  For  this  element,  the  unit  identification
code (UIC) of the designated accounting activity is
used. Since UICs only contain five digits, a zero prefix
is  added  to  make  six  digits.  Notice  that  in  the
accounting  data  presented  in  figure  2-2,  the
authorization accounting activity is not required. In
cases such as these, six zeroes are used to fill the field.
TRANSACTION TYPE
The seventh element represents the transaction
type.  Because  most  Navy  accounting  transactions  are
performed   by   machine,   use   of   the   two-digit
alphanumeric  transaction  code  allows  for  machine
identification  of  the  following  categories:
1.
2.
3.
4.
5.
6.
7.
In
Stores  account  purchases
Plant  property  account  purchases
Other  special  suspense-type  accounts
Formal and other special obligation accounting
Successor   appropriations
Register  and  listing  identification
Other  transactions  of  special  interest
some  cases,  the  functional  account  number
(FAN) may serve the same purpose as the transaction
2-5