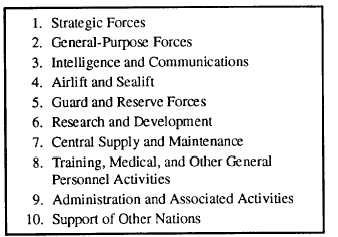 CHAPTER 2
APPROPRIATION  ACCOUNTING
Appropriations are broad categories or blocks of
funds authorized by Congress to be used for specific
purposes  by  various  government  departments.  Because
appropriations  are  made  for  specific  purposes  and
cannot  be  expended  for  other  purposes,  accounting  for
appropriations  is  an  essential  part  of  the  Navy's
financial   management   system.   In   fact,   it   is   the
appropriations authorized by Congress to be made from
the general fund that support the Navy's operations and
strategic  capability.
The  purpose  of  this  chapter  is  to  examine  the
various  components  of  appropriation  accounting.  As  a
senior Disbursing Clerk (DK), you will become directly
involved in this area of responsibility because you will
be required to report all disbursements and collections
accurately by the appropriation itself and by the various
components of the accounting data. The information in
this chapter is designed to provide you with an overview
of  these  responsibilities  and  procedures.  After  studying
this  chapter,  you  should  be  able  to  describe  the
components  of  appropriation  accounting  and  their
individual  and  collective  roles  in  the  Navy's  financial
management   system.
NAVY FINANCIAL
MANAGEMENT
Before   discussing   the   components   of   the
appropriations and the related accounting data, let's
take a look at some basic aspects of the Navy's financial
management system, such as the fiscal year and the
Five-Year  Defense  Program  (FYDP).
FISCAL YEAR
The  fiscal  year  for  the  federal  government  begins
on 1 October of each calendar year and runs through 30
September of the following calendar year. The fiscal
year is designated by the calendar year in which it ends.
For example, the fiscal year for 1997 will begin on 1
October 1996 and will end on 30 September 1997.
Although the time frame for a fiscal year is the 12
months from 1 October of one calendar year through 30
September   of   the   following   calendar   year,   the
operational scope of the fiscal year is much broader.
During a fiscal year, several different transactions will
take  place.  Some  of  these  transactions  will  be  related
to the current fiscal year. Others, however, will be
related to the previous fiscal year. In fact, some will
even concern future fiscal years. This means that while
transactions  for  the  current  fiscal  year  are  being
processed,  appropriations  for  previous  fiscal  years  are
still  being  cleared  or  settled.  Simultaneously,  the
planning and development of budgets for future fiscal
years may also be taking place. This is why you, as a
senior DK, must be aware of all transactions associated
with  budgeting,  appropriation  accounting,  and  the
significance of the fiscal year. The dimensions of the
Navy budget are indeed broad for any one fiscal year.
This  is  one  of  the  reasons  that  the  Department  of
Defense  instituted  the  FYDP.
THE FIVE-YEAR DEFENSE PROGRAM
The FYDP establishes the planned force structure
and financial levels for the military departments for a
5-year  period.  To  allow  for  the  making  of  careful
decisions, the FYDP provides a method by which the
information  the  military  departments  will  use  for
planning,   programming,   and   execution   can   be
accumulated,  grouped,  and  controlled  according  to
specific meaningful categories called programs. At the
time  this  training  manual  (TRAMAN)  was  published,
the FYDP consisted of the 10 programs shown in figure
2-1.  These  10  programs  provide  a  framework  from
which  the  Navy  develops  its  annual  budget  requests.
Figure 2-1.-Ten programs used in the Five-Year Defense
Program.
2-1