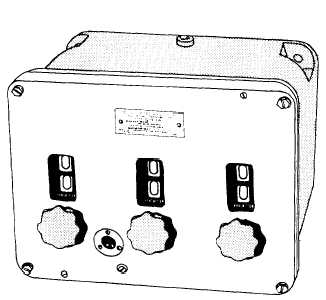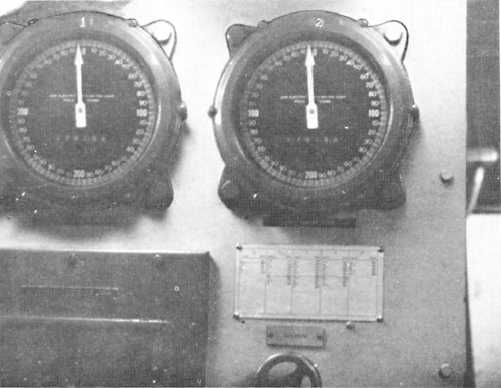 Figure 2-9.— Propeller order indicator-transmitter.
indicator-transmitter. See figure 2-9. It is commonly
called the engine revolution telegraph. This instrument
enables the lee helmsman to make minor changes in
speed by stepping up or lowering the rpm. On the face
of the instrument are three small windows, in each of
which appear two rows of numbers. The lower row of
numbers is set individually by the three hand knobs
located directly below the windows. These lower
numbers  give  a  visual  indication  of  shaft  revolution
ordered by the conning officer to the engineroom.
Corresponding  numbers  appear  on  a  similar  instrument
in   the   engineroom(s)   by   means   of   electrical
transmission. In the engineroom(s), these orders are
received and acknowledged when the engineroom
instrument is set on the same settings. Once again, this
indication is transmitted back to the bridge electrically
and is shown as the upper row of numbers. Thus, the
operator at the conning station is able to report to the
conning officer the receipt of the order for engine speed
and that it is being carried out.
During the many different conditions of steaming,
individual  commands  usually  establish  orders  regarding
when and in what manner the engine order telegraph and
engine  revolution  telegraph  are  used  together  or
separately. Usually it is found that the engine order
telegraph is used alone during periods of piloting,
whereas  during  periods  of  normal  steaming,  the  engine
revolution telegraph may be the primary means of
transmitting speed changes. In general, however, both
means are used when steaming under normal conditions.
Be sure you know the exact orders relating to their use
before taking over a watch on the bridge.
The number of revolutions per minute required to
travel at the various speeds (full, standard, 2/3, and so
on) are calculated in advance and are posted on a table
nearby.
Figure  2-10.—  Engine  revolution  indicator.
2-8