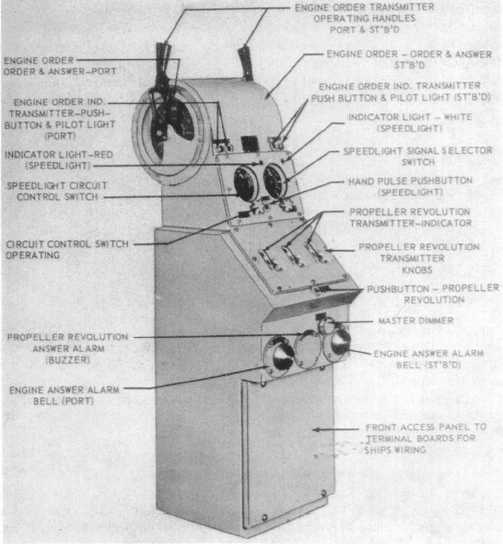 When standard speed is ordered, the number of
revolutions per minute required to produce that speed
must be set on the engine revolution telegraph if the
revolution  counter  is  being  used.
When not in use, the telegraph on the bridge may be
set   to   999   or   (on   some   telegraphs)   to   M   (for
maneuvering).  This  setting  indicates  to  the  engineroom
that  the  ship  is  on  maneuvering  bells.
Although control of the engine order telegraph
usually can be shifted from the bridge to an after conning
station by a selector switch, control of the engine
revolution  telegraph  cannot  be  shifted  in  this  manner  in
most  installations.
An engine revolution indicator (or tachometer) on
the bridge shows the number of revolutions per minute
actually being made by each shaft. This device is only
an indicator and is incapable of transmitting orders. See
figure  2-10.
CONSOLES
Many  ships  are  equipped  with  ship  control  and
steering  control  consoles.
Ship control and steering control consoles normally
are installed in the pilothouse and serve as a direct
method  of  controlling  the  ship.  These  consoles
concentrate  in  one  location  many  of  the  interior
communication units formerly scattered in several
places about the bridge. The units are combined in two
consoles,  which  usually  weigh  less  and  require  less
space than if the same units were installed separately.
Components of the consoles are mounted so that they
are easily visible and accessible to the personnel
concerned  with  the  control  of  the  ship.
Ship  Control  Console
The ship control console contains equipment for
controlling the movements of a ship. Figures 2-11, 2-12,
and 2-13 show three types of ship control consoles in
Figure  2-11.—  Ship  control  console.
2-9