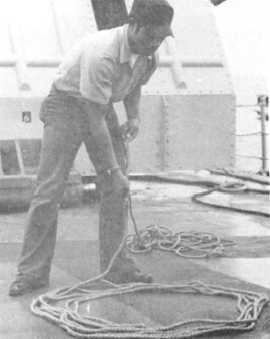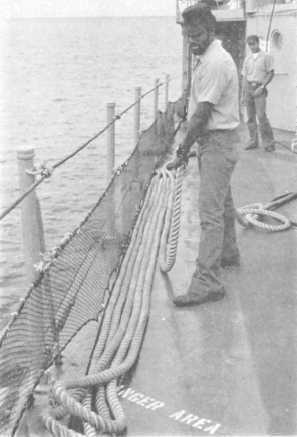 Table 3-1.–Dimensions for Tattletale Lines
Type  of  Synthetic  Rope
Length  of  Tattletale  (inches)
Distance Between Marks (inches)
Nylon three-strand
35
1/2
30
Nylon  plaited
43
1/2
40
Nylon double-braided
43
1/2
40
Polyester three-strand
63
1/2
60
Polyester plaited
62
1/2
60
Polyester double-braided
62
60
MAKING UP A LINE
LEARNING  OBJECTIVE:  Identify  the  proper
procedures for making up a line.
Once line is removed from the manufacturer's coil,
it may be made up either by winding on a reel or by
coiling  down,  faking  down,  or  flemishing.
Coiling down a line means laying it up in circles,
roughly one on top of the other. Always coil right-laid
line right-handed, or clockwise. Figure 3-3 shows you
how to coil a right-laid line. When a line is coiled, one
end is ready to run off. This end went down last and
now it is on top.) If you try to walk away with the
bottom end, a foul-up results. If, for some reason, the
bottom end must go out first, you must upset your entire
coil to free it for running.
Faking down a line (fig. 3-4) is laying it out in long,
flat bights, one alongside the other, instead of in round
coils. The main advantage of working with line that is
faked is that it runs off more easily.
Flemishing a line is starting with the bitter end and
laying successive circles on the deck of line in the
manner of a clock spring with the bitter end in the center
8
0 .
2
1
8
0 .
2
2
Figure 3-3.–Coiling down a line.
Figure 3-4.–Faking down a line.
3-7