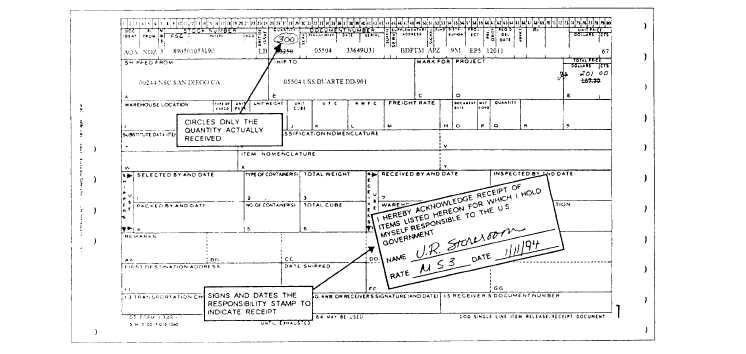 Overages  From  a  Navy  Source.—  

When
prepared to document the excess quantity received.
discrepancies from a Navy source are not resolved, the
This dummy receipt document can be a DOD Single
receipt  inspector  and  bulk  storeroom  storekeeper  should
Line   Item   Release/Receipt   Document,   DD   Form
indicate the actual quantity physically received on the
1348-1,  or  a  Requisition  and  Invoice  Shipping
receipt document by drawing a single line through the
Document, DD Form 1149. See figures  

2-5

and

2-6

for
invoiced quantity. Then both sign and date the receipt
examples of these documents. In addition, mark on the
document. See figure 2-4. Forward this document to
document Dummy Invoice to Cover Excess Shipment
the FSO. A dummy receipt document should then be
to distinguish the dummy invoice from a normal receipt.
Figure  2-4.-Original  invoice  to  cover  excess  shipment  receipt  by  bulk  storeroom  storekeeper  using  DD  Form  1348-1.
Figure 2-5.—Dummy involve to cover excess shipment using DD Form 1348-1.
2-5