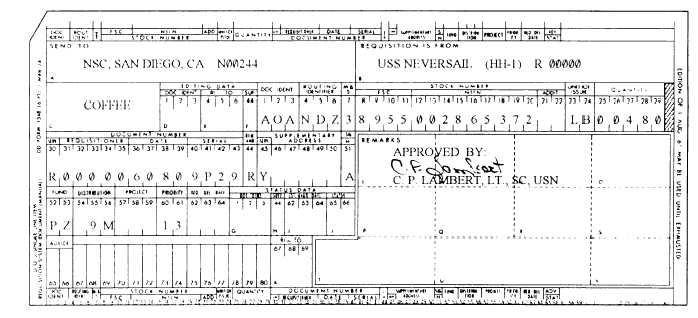 Manual Method
All the entries made on the DD Form 1348 (fig.
12-8)  should  be  entered  using  a  ball-point  pen  or
typewriter  when  preparing  a  manual  requisition.
When preparing requisitions, it is not necessary to
space the entries within the tic marks printed on the
form.  However,  it  is  important  that  entries  be  prepared
by the requesting ship according to the Procurement
section of the NAVSUP P-486, volume I.
REQUISITION     LOG.–
Maintaining
the
Requisition Log, NAVSUP Form 1336, is optional for
all  ashore  and  afloat  activities.  The  requisition  log
provides   requisition   documentation   control   and
information on outstanding requisition documents and
receipts.  It  also  provides  a  breakdown  of  receipts  with
and without charge. Outstanding requisitions that are
brought forward to the current month's requisition log
should  carry  the  same  requisition  document  numbers
assigned on the previous month's log.
Instead   of   maintaining   the   Requisition   Log,
NAVSUP  Form  1336,  all  receipts  without  charge  may
be annotated with W/O in the left-hand margin on the
NAVSUP Form 367. At the end of each month, the
receipts with charge file will be used as the source file
for  determining  the  dollar  value  of  the  Receipts  With
Charge block for the monthly NAVSUP Form 1357.
This value also can be confirmed using the NAVSUP
Form 367 by totaling all receipts not annotated W/O.
REQUISITION FILES.–  

You  should  maintain  a
requisition file that contains a copy of each procurement
document  generated  for  each  outstanding  requisition.
You  should  maintain  an  outstanding  requisition  file  for
all DD Forms 1348 and 1149 and rough requisitions,
NAVSUP Forms 1059. For all DD Form 1155 purchase
orders,  you  also  should  maintain  an  outstanding
purchase order file. You should maintain these forms in
document number sequence within their individual
files.  Only  the  records  keeper  is  required  to  maintain
completed requisition or purchase order files.
PURCHASING
When it is not possible to procure food items from
normal sources of supply, they maybe purchased under
existing  shore  contracts  or  in  the  open  market.  In
general, contract bulletins and local regulations should
furnish you with the necessary information concerning
commercial  sources  of  supply.
Contract  bulletins  issued  by  Navy  purchasing
activities  are  the  official  source  to  determine  that  the
contract under which an order is to be placed (1) is in
existence  and  covers  the  specific  product  required  and
(2) provides for delivery at the particular port or area
when  delivery  is  requested.
Do not rely upon pamphlets or lists furnished by
suppliers since they may contain errors. If you place
orders  based  upon  information  contained  in  these
pamphlets   without   confirmation   against   contract
bulletins, they may result in the unauthorized placement
of  orders  or  disallowance  of  payment  by  the  Navy
Regional  Finance  Center  (NRFC)  or  Fleet  Accounting  and
Disbursing  Center  (FAADC).
Figure 12-8.-DD Form 1348.
12-10