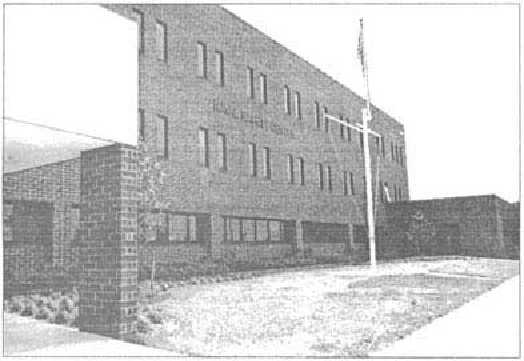 347.1
Figure 1-2.—Naval Safety Center building.
developing
procedural
guides
and
preparing
directives to support and achieve program goals and
policies.
RESPONSIBILITIES OF THE NAVAL
SAFETY CENTER
The  Naval  Safety  Center  (fig.  1-2),  located  in
Norfolk, Virginia, provides staff  support  to  the  CNO
in  executing  the  Navy  safety  program.  The  Safety
Center  also  provides  staff  support   to   the   Deputy
Chief  of  Naval  Operations  (Logistics),  N4.  The  staff
support  helps  N4  carry  out  its   overall  Navy  safety
and occupational health coordination responsibilities.
The   Safety   Center   supports   the   Naval   Inspector
General and the President of the Board of Inspection
and Survey.
As  directed,  the  Naval  Safety  Center  assists  N4  in
preparing   and   maintaining   basic   safety   program
manuals. The Safety Center does not issue Navywide
safety directives. However, when requested, the staff
helps the appropriate offices, commands, or agencies
prepare  general  or  specific  safety-related  operating
instructions.  It  also  conducts  safety  surveys  of  the
naval   operating   forces   and   shore   commands   as
requested by the CNO.
1.    Other  functions  performed  by  the  Naval  Safety
Center include:
2.    Maintaining     liaison     with     naval     command
bureaus,   and   offices   to   ensure   knowledge   of
factors     adversely     affecting     safety     and     to
recommend remedial action
3.    Maintaining    liaison    with    other    government
agencies  and  private  organizations  engaged  in
hazard awareness
4.    Maintaining   a   library   of   research,   technical
development, and survival information
5.    Maintaining   and   evaluating   mishap,   occupa-
tional illness, and hazard reports; and publishing
statistical data on mishaps
6.    Providing   mishap   statistical   research   services
and conducting special analytical studies on naval
mishap data
7.    Identifying
human
factors,
inadequate
maintenance  techniques,  deficiencies  in  design,
insufficiency    of    technical    publications,    and
shortage of repair parts and equipage
8.    Developing     and     reviewing     procedures     and
standards  for  conducting  mishap  investigations;
assisting  in  investigations  of  significant  mishaps
involving  naval  aircraft,  ships,  and  submarines;
taking part, as requested, in
1-6