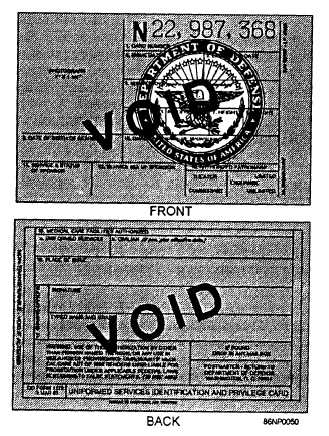 1173. Refer to figure 3-11 showing the front and back
of an intentionally voided DD Form 1173.
ELIGIBLE  DEPENDENTS.—   

The  following
dependents are eligible for issuance of this ID card.
However, this list is not inclusive.
Spouses, ant/or unmarried legitimate children,
adopted  children,  and  stepchildren  under  age  21  who
have a documented or biological relationship to the
sponsor
Children 21 years old and enrolled full-time in
an  institution  of  higher  learning  are  eligible  for
continued benefits until age 23 as long as they remain
unmarried
PRIVILEGES.—

Dependents are issued ID cards
for the purpose of obtaining benefits for which they are
eligible as a result of their dependency. Depending on
eligibility, these benefits may range from medical care
in civilian facilities and in uniformed services facilities
to  commissary  privileges,  theater  privileges,  and
exchange privileges. Whenever you are tasked with
typing DD Form 1173s for dependents of active duty or
Figure  3-11.—Uniformed  Services  Identification  and
Privilege Card, DD Form 1173.
retired military personnel, make sure you refer to the
Entitlement   Guide   section   of   the   BUPERSINST
1750.10 to determine which privileges to authorize.
DD Form 1172
Before a DD Form 1173 can be issued to eligible
dependents, an Application for Uniformed Services
Identification  Card/DEERS  Enrollment,  DD  Form
1172, is required. DD Form 1172 must be completed
according to the guidelines set forth in BUPERSINST
1750.10.
If  you  are  working  in  the  ID  Card  section  of  a
PERSUPPDET that has access to DEERS, you will be
able to prepare the DD Form 1172 using the RAPIDS
computer and subsequently issue the DD Form 1173
directly to the recipient.     If  you  are  attached  to  a
command that does not have a RAPIDS computer, you
will be required to use a floppy disk to prepare this form
and a printer.
Always  make  sure  you  verify  eligibility  by
checking  appropriate  documents  in  the  member's
service  record.  You  are  reminded  that  the  Emergency
Data/Dependency Application, NAVPERS 1070/602,
and, if appropriate, the Dependency Action Status,
NAVCOMPT 3072, are not acceptable for determining
ID card eligibility of dependents. You should always
verify  such  documents  as  marriage  contract,  birth
certificates,  and/or  other  legal  documents  that  establish
the  relationship  between  the  member  and  the
dependents.
If  information  required  to  determine
eligibility for issuance of ID cards is missing from the
service record, it is the responsibility of the service
record holder and the member concerned to obtain these
documents.
ID  cards  for  dependents  of  retired  personnel  may
be obtained at the nearest PERSUPPDET, provided the
dependents  are  enrolled  in  DEERS.  Personnel  at  the
PERSUPPDETs  are  able  to  verify  whether  or  not
dependents  are  enrolled  in  DEERS  by  using  the
RAPIDS  computer.
If  the  dependents  are  not  enrolled  in  DEERS
because  they  were  recently  acquired,  you  must  enter
them in the DEERS using the RAPIDS computer. If
you  are  tasked  with  issuing  ID  cards  for  these
dependents, make sure you ask for and examine the
following  appropriate  documents:
Sponsor's DD Form 214
Sponsor's marriage license
3-22