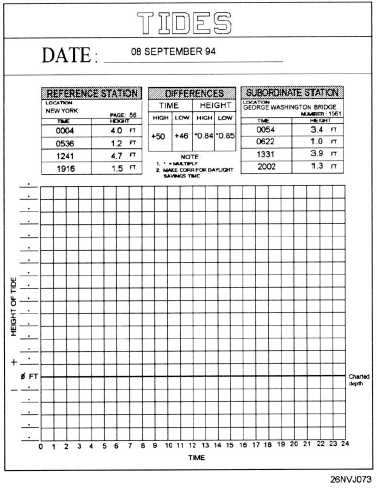 How to Graph Tide Data
Introduction
When  the  height  of  tide  is  required  for  a  number  of  times  on  a  certain
day,  the  graphical  method  of  determining  tides  can  be  very  useful.  For
example,  a  buoy  tender  may  spend  an  entire  day  servicing  aids  to
navigation  in  one  particular  area.  Having  the  tides  displayed  on  a  graph
for  the  entire  day  will  save  you  from  having  to  calculate  the  height  of
tide  separately  for  each  aid  you  visit.
To  illustrate  how  to  construct  a  tide  graph,  we  will  use  the  same  data
presented  in  the  previous  section  for  the  height  of  tide  at  Tue  Marshes
Light,  Virginia.  The  form  shown  in  figure  7-5  should  prove  helpful  in
guiding  you  through  the  problem,  however,  regular  graph  paper  can  be
used  if  you  desire.
Figure  7-5.  Sample  tide  graph  form.
7-12