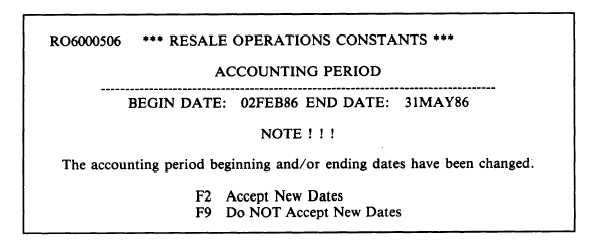 Figure 2-19.—Resale operations constants accounting period information screen.
correct.  If  they  are  not  correct,  you  will  depress
function key F9 and return to the resale operations
constants screen to enter the appropriate dates.
If the dates are correct, you will depress function
key F2, and all the information you have entered
will  be  posted  to  the  ROM  files.  You  will  then
continue   processing   with   the   accounting   and
appropriation  data  screen.
RESALE  OPERATIONS  ACCOUNTING
AND   APPROPRIATION   DATA
This function is used to maintain the various
data   elements   of   the   accounting   classification
spread  that  are  printed  on  requisitions  and
purchase  orders.  There  are  also  several  other
financial  control  data  maintained  via  this
subfunction  such  as  appropriation  account  for
markdowns   below   cost,   range   of   expenditure
serial numbers for the accounting period, and the
standard   markup   percentage   applied   to   all
merchandise  for  the  accounting  period.
The  resale  operations  screen  (fig.  2-20)  for
accounting  and  appropriations  can  be  accessed
from  the  resale  operations  constants  accounting
period screen if the accounting period beginning
Figure 2-20.—Resale operations constants screen for accounting and appropriations.
2-29