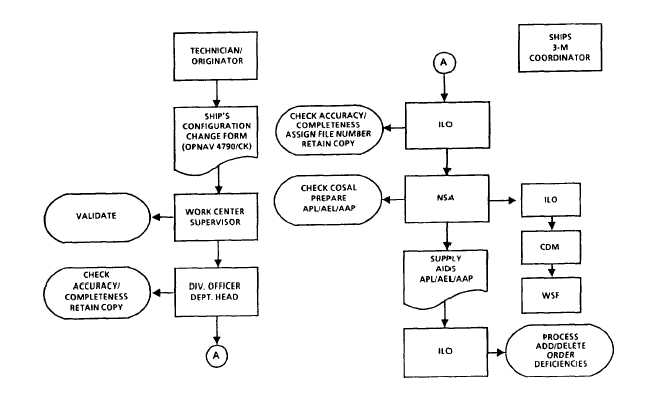 Activity
Conducting
Change
Type  Change
Ship's
All   Changes/
Force
Mods   SHIP-
ALTS/ORDALTS
Tender
All   Changes/
(AD/AS)
Mods  Adds/
Deletes
SIMA
All   Changes/
Mods  Adds/
Deletes
Repair
All   Changes/
Ship  (AR)
Mods  Adds/
Deletes
Required
Reporting
Action
Responsibility
CCR
Ship
CCR
Ship
CCR
Ship
CCR
Ship
Figure 2-16.—Changes, actions, and who is responsible for updating COSAL.
completeness of the CCR, retain a file copy, and
accuracy   and   completeness,   and   forwards   the
forward the CCR promptly to the supply support
CCR  to  the  supply  officer.
center supervisor.
The   supply   support   center   supervisor
The supply officer assigns a CCR number and
equipment validates the CCR, checks all data for
forwards  the  CCR  to  the  NSA.  See  figure  2-17.
Figure 2-17.—Logic diagram for processing a configuration change report.
2-23