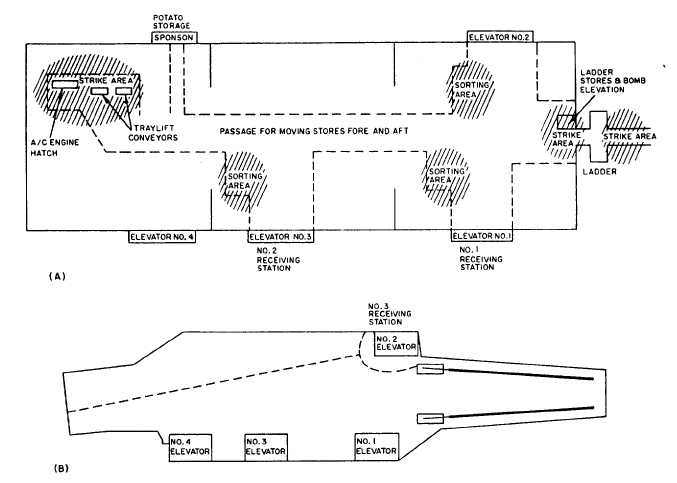 Figure 7-1.—Carrier deck plans (A) hangar deck; (B) flight deck.
replenishment) until the nets are detached from
the transfer rig at the receiving station. At that
moment  the  stores  become  the  responsibility  of
the  supply  department.  They  must  be  removed
from the receiving station as quickly as possible.
The time interval available is the time required
for the hook to travel to the transferring ship, pick
up  a  loaded  net,  and  return—a  matter  of
moments.  Material  received  by  helicopter  must
be  moved  into  position  on  the  elevator  quickly
and the elevator promptly lowered to the hangar
deck,  cleared  of  stores,  and  promptly  raised  to
the  flight  deck  for  the  next  load.
SORTING  STATIONS.—  

The second group
is  composed  of  the  sorting  or  segregation  stations,
where  the  material  is  separated  by  type  and
storage  destination.  These  stations  may  be  located
at  any  point,  depending  upon  local  conditions.
Sorting  necessarily  requires  a  fair  amount  of
space,  especially  since  there  may  be  temporary
delays  while  unit  loads  of  one  item  are  assembled.
The main consideration in assigning locations for
sorting stations must be that no time or effort is
wasted.  If  the  storerooms  are  located  in  other
parts  of  the  ship,  sorting  must  be  done  on  the
hangar deck. Material received by helicopter on
the flight deck is usually shunted promptly to a
hangar  deck  sorting  station.
Some  ships  are  designed  so  that  foodservice
storerooms are accessible from the messdeck. On
these  ships,  provisions  may  be  shunted  directly
below  to  the  messdeck  before  sorting.
STRIKE  STATIONS.—  

The strike stations,
the third group, are the access hatches where the
material is moved below decks. Included in this
group   are   the   ammunition
where   pallets   are   lowered
and  hatches  where  material
hand  by  sliding  on  board  or
or belts.
elevators,   hatches
by   electric   hoists,
is  passed  down  by
down metal chutes
7-11