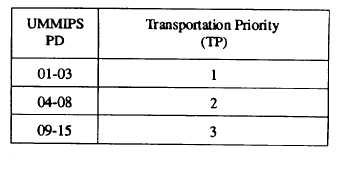 1.
2.
3.
4.
United States mail
Army and Navy vessels
Government  air  Service
Commercial   carriers
a.
b.
c.
d.
e.
f.
g.
DEGREE
Rail  freight
Air  freight
Motor  truck
Freight   forwarders
Ships  of  United  States  registry
Ships  of  foreign  registry
Small parcel carriers (e.g., USPS, Federal
Express).
OF  PROTECTION
The  degree  of  protection  given  or  required  for
packaging and packing to meet anticipated shipping
conditions. Protection levels are defined as Levels A,
B,  and  C.  The  level  of  packaging  and  packing  of  a
shipment  is  marked  on  exterior  activities  of  the  level
provided.   An   exterior   containers   in   appropriate
combinations to inform the receiving activities of the
level  provided.  An  exterior  shipping  container  marked
C/C  indicates  the  packaging  (first  letter)  and  packing
(second letter) are both Level C.
LEVEL  A—  The  degree  required  to  protect  against
the most severe conditions that may be encountered
during  shipment,  handling,  and  storage.
LEVEL B—The degree required for protection when
the condition areto be less severe than those requiring Level
A, but more severe than time for which Level C is adequate.
LEVEL  C—The  degree  required  for  protection
under known favorable conditions during shipment,
handling,  and  limited  storage.  Repairable  must  be
given Level C protection since guarded handling is
mandatory and the designated overhaul point is known.
TRANSPORTATION  PRIORITIES
DOD  Instruction  4410.6  established  a  Uniform
Material   Movement   and   Issue   Priority   System
(UMMIPS)  for  the  requisitioning  and  movement  of
material within the DOD distribution system. The policy
and criteria established by UMMIPS for determining and
observing the priority of material movement by shipping
activities   is   implemented   in   DOD   MILSTAMP
Regulation.  Transportation  priorities  (TPs)  and
movement criteria for material not covered by UMMIPS
are  included  in  MILSTAMP  for  the  purpose  of
expressing uniformity of demands for transportation
service  upon  the  Defense  Transportation  System  (DTS).
The  UMMIPS  time  standards  imply  that  highspeed
transportation   may   be   necessary   to   meet   the
requirements  of  operating  forces  for  high-priority
material  demands  (priority  designators  01-08).  Under
these  conditions,  the  basic  objective  is  to  satisfy
customer  demands  on  time,  without  operating  and
transportation costs becoming an overriding factor.
Transportation  priorities  are  normally  assigned  based
on the priority designator of the requirement being
shipped. Table 14-1 shows the relationship between
priority  designators  and  transportation  priorities.
TRANSPORTATION  PRIORITIES  WILL  NOT  BE
UPGRADED except by specific modification to original
supply    demands.   "EXPEDITED    HANDLING"
shipments  (UMMIPS  priorities  01-03  with  code  '999"
indicated in the RDD field of the requisition) will be
afforded the highest precedence of handling prescribed in
this regulation, overriding all other priorities, projects, and
RDDs. In addition to the three TPs just mentioned TP4 is
used in MAC airlift for deferred airfreight on the basis as
authorized  by  MILSTAMP.
MILSTAMP  AIR  SHIPMENT
Air shipment within DTS is normally limited to
transportation  priorities  1  and  2  (PD  01-08)  shipments.
However,   transportation   priority   3   (PD   09-15)
shipments   with   advanced   RDDs   may   qualify.
Naturally, air shipment would be used if it were more
economical   or   if   surface   transportation   were   not
available.  The  three  major  military  airlift  systems  used
by the Navy are the Military Airlift Command (MAC),
QUICKTRANS,  and  Fleet  Logistics  Airlift  System.
PACKAGING   REPAIRABLE
The objectives of the mandatory turn-in repairable
program  are  to  expedite  the  immediate  return  of
repairable,  and  to  provide  adequate  packaging  that  will
Table 14-1.-Relationship Between UMMIPS Issue Priority
Designators  (PD)  and  MILSTAMP  Transportation  Priorities  (TP)
14-16