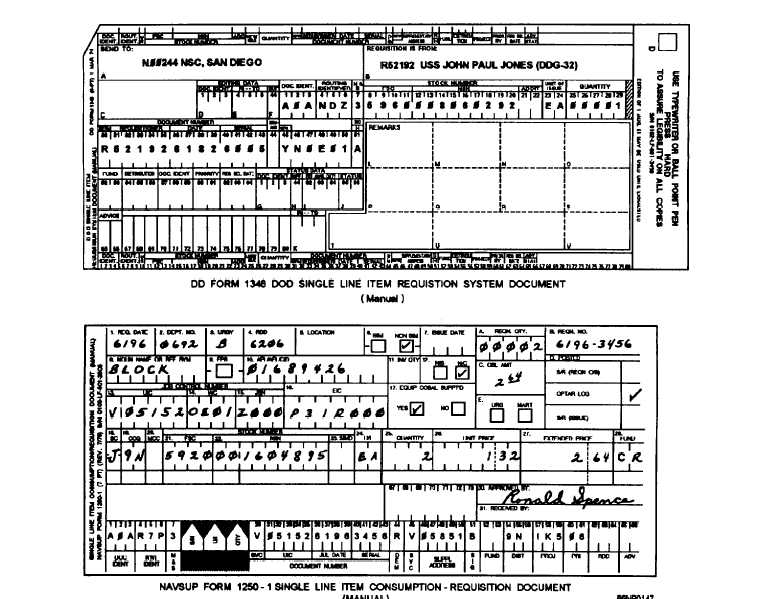 DEFINITIONS OF TERMS USED IN
MILSTRIP
You should know the terms used in MILSTRIP.
Refer   to   the   NAVSUP   P-485   for   definition   and
explanation   for   the   terms   associated   with
MILSTRIP.
PREPARATION OF A MILSTRIP
REQUISITION
MILSTRIP relies upon coded data for processing
Requisitions  with  automatic  data  processing  equipment.
Whether a DD Form 1348 or NAVSUP Form 1250-1 is
the  prescribed  requisitioning  document  (see  figure  5-1
for  example)  care  must  be  taken  in  selecting  and
entering  coded  data  elements.
When preparing a DD Form 1348, or in a NAVSUP
Form  1250-1  requisition  material  the  following  general
rules apply to nonautomated ships without card facilities
Enter data by ballpoint pen or typewriter.
It is recommended, that data in a DD Form 1348
or NAVSUP Form 1250-1 be entered within the
"tic"   marks   in   the   form.   However,   it   is
mandatory  that  entries  be  included  within  the
data  fields  to  which  they  pertain.
To eliminate confusion between the number zero
and the letter "O," use a slashed zero.
Figure  5-1.-Example  of  MIISTRIP  requisition  documents.
5-6