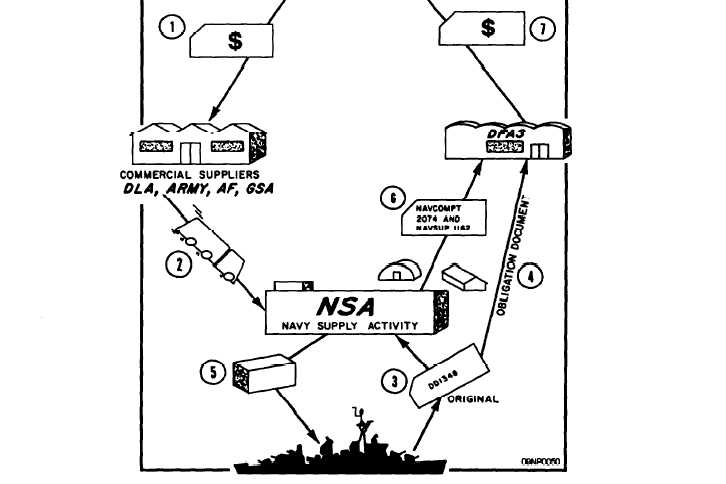 or for cash. The DBOF is reimbursed for supplies when
they are ISSUED or SOLD. While these supplies are
waiting to be sold, they are in the Navy Stock Account
(NSA).
NAVY  STOCK  ACCOUNT—The  Navy  Stock
Account (NSA) is an inventory account and an integral
part of the DBOF. It serves as the "holding account"
for DBOF procured supplies before to their sale. Thus,
the total value of the DBOF consists of money plus
supplies  in  the  NSA.  The  NSA  is  also  used  by  NAVSUP
as the accounting device to account for and control the
expenditure  of  DBOF  funds.
DBOF/NSA  IN  OPERATION—Refer  to  figure  9-5
as  you  read  the  following  steps  covering  the  operation
of the Defense Business Operating Fund and Navy
Stock  Account.
1.
2.
3.
Material   is   purchased   by   DBOF   from
commercial   suppliers,   Defense   Logistics
Agency,  Departments  of  the  Army  and  Air
Force  and  the  General  Services  Administration.
Suppliers  deliver  material  to  designated  naval
supply activities where it is held in the inventory
account,  Navy  Stock  Account  (NSA),  until
needed by a Navy customer,
A ship has to replace material which has been
used  in  its  operations.  A  requisition,  DD  Form
Figure 9-5.-The Defense Business Operating Fund in operation.
9-5
.