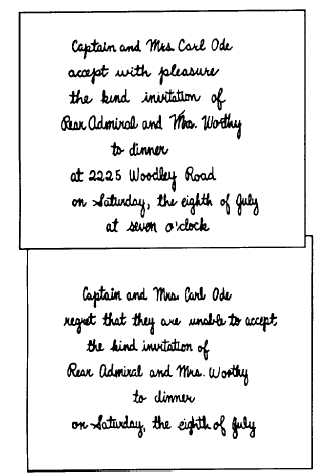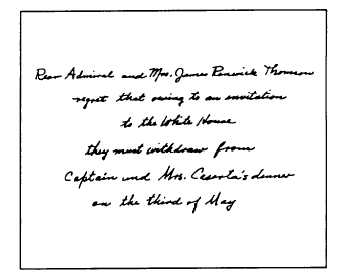 When R.s.v.p. is at the lower left, the boat schedule will
appear in the lower right comer.
REPLIES
Whether or not an invitation requests a reply, most
formal  invitations  should  be  answered.  A  notable
exception is the invitation to a church wedding. Home
weddings  and  wedding  receptions  require  replies.  The
general rules about answering invitations are that they
should be answered as promptly as possible after receipt
of  the  invitation.  One  authority  specifies  that  replies  to
dinner or luncheon invitations should be made within 48
or, if possible, 24 hours after receipt of the invitation.
The second rule is that the form of the reply should
correspond to the form of the invitation.
If you are asked to prepare a reply to a formal
invitation, be sure that you use not only the correct form,
but also, as with the invitation itself, that it is written as
legibly and as attractively as possible. A centered format
similar to that used in the invitation is appropriate.
Figure  4-4.-Formal  acceptance  and  regret.
Figure  4-5.-Withdrawal  of  acceptance.
Stationery and ink should be selected by the same rules
as for invitations.
When an invitation is accepted, the date, time, and
place are always repeated. This lets the host know there
is no misunderstanding. In a reply expressing regret, it
is not necessary to repeat the time. Figure 4-4 shows
samples of an acceptance and a note of regret.
WITHDRAWING AN ACCEPTANCE
There may be occasions when it is necessary to
withdraw an acceptance. Some valid reasons are serious
illness,  a  death  in  the  family,  prospective  absence
occasioned by a transfer of duty, official duty, or very
important business elsewhere. Figure 4-5 is a sample
withdrawal of acceptance. A point to remember is that
an invitation from the White House or Chief of Mission
takes precedence over all other invitations.
CEREMONIES
Navy tradition dictates that each ship constructed
for the service be honored on at least three historic
ceremonial  occasions:  keel-laying,  christening  (or
launching),  and  commissioning.  Various  directives
pertaining to these events are issued periodically, but
questions often arise concerning the proper wording of
invitations and the agenda for the ceremony. Your
primary source of information for any of the previous
ceremonies   is   the   

Social   Usage   and   Protocol
Handbook,  

OPNAV  092-P1.  The  information  contained
in the handbook and this chapter is not intended to
represent a rigid standard but to outline what has been
4-8